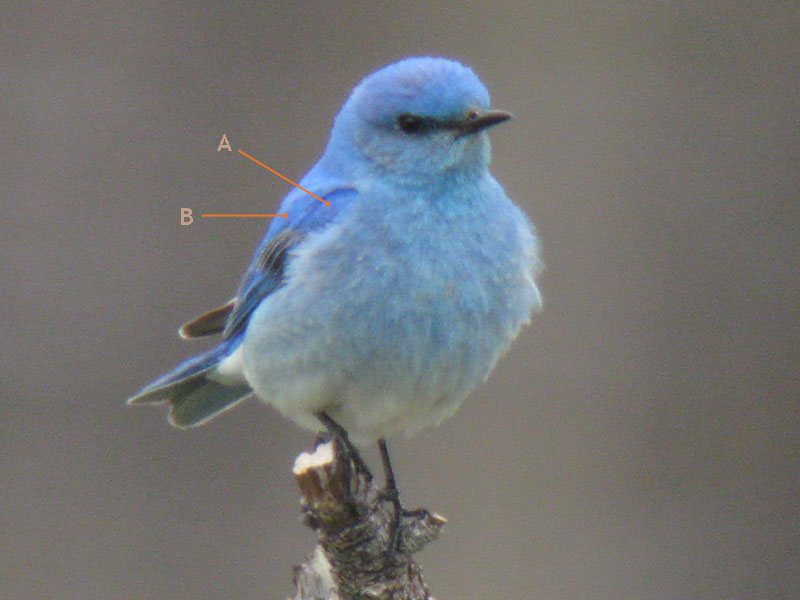 Identify the two labeled feather groups in the quiz below, with a couple of bonus questions.


Bird Topography: Wings 2
Congratulations - you have completed Bird Topography: Wings 2.
You scored %%SCORE%% out of %%TOTAL%%.
Your performance has been rated as %%RATING%%
Your answers are highlighted below.
The feathers labeled A are called the...
| | |
| --- | --- |
| | Greater coverts |
| | Neck |
| | Lesser coverts |
| | Scapulars |
Question 1 Explanation:
Correct! The lesser coverts are the tiny feathers that cover the bend of the wing (often called the "shoulder" but it's really analogous to our wrist), here nestled in between the back and the flank feathers. These are the same feathers that are red on a Red-winged Blackbird. On this bird the longer greater coverts are grayish and are obvious just below the lesser coverts. We're ignoring the median coverts, which form a band between the lesser and greater coverts, but in this photo they are blue and just blend in with the lesser coverts.
The feathers labeled B are called the...
| | |
| --- | --- |
| | Scapulars |
| | Lesser coverts |
| | Mantle |
| | Neck |
Question 2 Explanation:
Correct! The scapulars grow from the shoulder (scapula) and fan out and curve down to cover the base of the wing. On passerines like this bird they form a narrow band along each side of the back just above the folded wing. On many species they show a different color or pattern, but on unicolored birds like this one it's the contours of the surface that distinguish the feather groups. Here you can see the faint distinction of the pale highlight along the upper edge of the slightly bulging scapulars, which become darker (in shadow) as they curve down to the wing.
The species is...
| | |
| --- | --- |
| | Blue Mockingbird |
| | Mountain Bluebird |
| | Eastern Bluebird |
| | Little Blue Penguin |
Question 3 Explanation:
Correct! A bluebird by shape, and male Mountain Bluebird is the only one that's blue on the breast. I took this photo at The Nature Conservancy's Pine Butte Guest Ranch near Choteau, Montana, in June.
Bonus question: True or False, Mountain Bluebird's tail shape is "notched".
Question 4 Explanation:
[Updated with the correct answer] - The tail is actually notched, although in this photo the appearance of a notched tail is exaggerated because of the viewing angle. The outer tail feathers are the lowest and outermost of the tail feathers, and the other feathers stack up and form a sort of arch above them. Therefore from this angle we see a big notch at the tip, but it's hard to be certain whether the notch is real or not. From directly above or below we would see a small notch because the central tail feathers are slightly shorter than the rest.
Once you are finished, click the button below. Any items you have not completed will be marked incorrect.
There are 4 questions to complete.