With thanks to the online wing collection of the Slater Museum of Natural History, University of Puget Sound for allowing the use of their wing photos.
With thanks, again, to Brian E. Small for providing the beautiful photos. You can see lots more at his website, and clicking any of his photos links there as well.
White wing patches 3
Congratulations - you have completed White wing patches 3. You scored %%SCORE%% out of %%TOTAL%%. Your performance has been rated as %%RATING%%

Your answers are highlighted below.
The species is:
| | |
| --- | --- |
| | Black-billed Magpie |
| | Yellow-headed Blackbird |
| | Audubon's Oriole |
| | Lesser Goldfinch |
The white markings on the wing are on the:
| | |
| --- | --- |
| | Primary coverts |
| | Secondaries |
| | Greater secondary coverts |
| | Primaries |
Question 2 Explanation: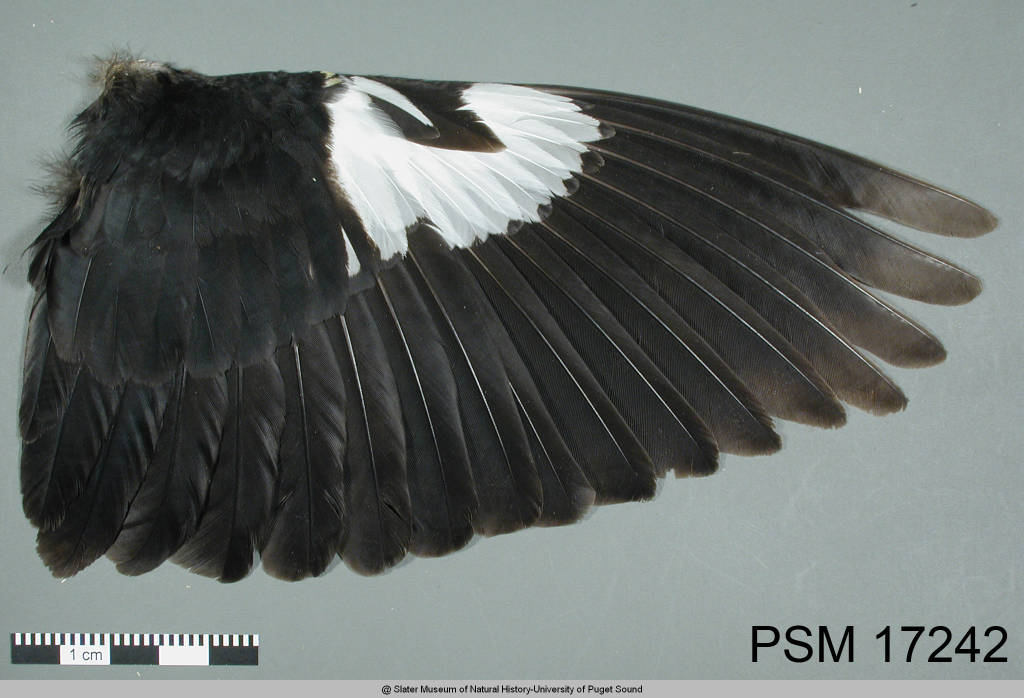 White is all on the "hand", and only on the smaller feathers covering the base of the primaries - the primary coverts. The black feathers that lie across these white primary coverts are the alula, which is analogous to our thumb, and rarely as conspicuous as it is in this species. Technically, it is not just the primary coverts that are white. A couple of the outermost greater and median secondary coverts are also white, and can be distinguished by their width and angle.
Once you are finished, click the button below. Any items you have not completed will be marked incorrect.
There are 2 questions to complete.