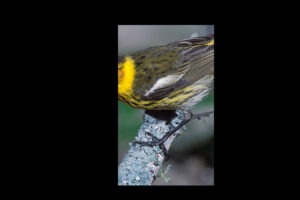 Here are some partially obscured warblers to test your knowledge. Look especially at the pattern of wingbars to distinguish these three.
With thanks, again, to Brian E. Small for providing the beautiful photos. You can see lots more at his website.
Warbler mid-sections
Congratulations - you have completed Warbler mid-sections.
You scored %%SCORE%% out of %%TOTAL%%.
Your performance has been rated as %%RATING%%
Your answers are highlighted below.
Now look at the greater coverts on each of the three species above. Two species have all of the greater coverts more or less the same pattern, and one species has a strikingly different color pattern on some of its greater coverts. Which species has non-uniform greater coverts?
| | |
| --- | --- |
| | Prairie Warbler |
| | Yellow Warbler |
| | Cape May Warbler |
Question 4 Explanation:
Correct! Cape May Warbler. The median coverts are bright white, and merge with white on several of the middle greater coverts, But the innermost (upper) and outermost (lower) greater covert are dark gray with greenish edges. No other warbler shares this pattern, and neither does the female Cape May. You can see more photos, including a female, here - http://briansmallphoto.com/cape_may_warbler.html
Once you are finished, click the button below. Any items you have not completed will be marked incorrect.
There are 4 questions to complete.