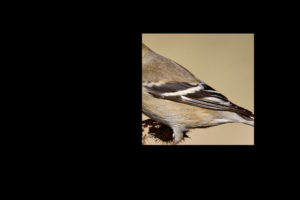 This quiz shows just the bodies of five species of small drab songbirds with wingbars. In other quizzes I've given a big clue in the form of telling you the family of the birds in the quiz (e.g. "More Warblers"), but in this quiz your challenge is to identify the family.
This level of identification – telling a warbler from a goldfinch from a kinglet – is something we learn to do automatically through experience. We memorize, and actively look for, field marks that distinguish Blackpoll Warbler from Bay-breasted. But distinguishing a female Blackpoll Warbler from a goldfinch? We "just know" from behavior, movements, proportions, calls, overall plumage colors, etc. There's no need to know how the wing pattern of a goldfinch differs from the wing pattern of a warbler, so we don't consciously memorize that.
I'm not sure if this quiz will be hard or easy. I suspect it will be easy for experienced birders, but I haven't been able to come up with any concise explanations to add to the answers, which makes me think that less experienced birders might find it really challenging.
In any case, it is a good opportunity to step back and really think about what it is that distinguishes these unrelated groups of birds.
With thanks, again, to Brian E. Small for providing the beautiful photos. You can see lots more at his website.
[mtouchquiz 38]