Like a previous quiz this one shows warblers as they are so often seen in the field – with just the underside of the body visible. Clues such as tail shape, overall size, behavior and other subtleties can be very helpful with experience. In this quiz I focus on the more objective features of plumage.
When all you can see is the belly, flanks, and tail of a warbler, take note of tail pattern, any streaking, and the overall pattern of dark/light and bright/drab. You should be able to identify most species by matching those patterns to the pictures in the guide, and with practice you will recognize more and more warblers from these small clues.
With thanks, again, to Brian E. Small for providing the beautiful photos. You can see lots more at his website.
More warblers from below
Congratulations - you have completed More warblers from below. You scored %%SCORE%% out of %%TOTAL%%. Your performance has been rated as %%RATING%%

Your answers are highlighted below.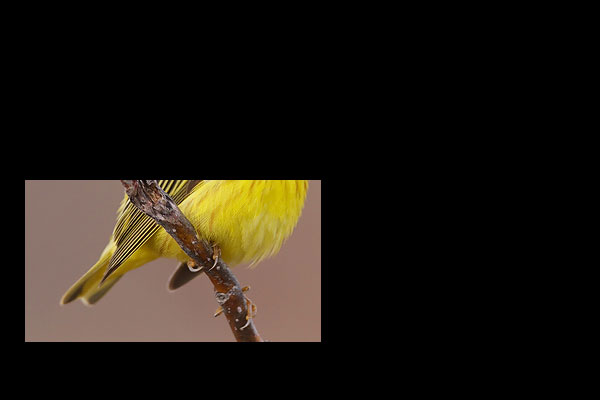 | | |
| --- | --- |
| | Yellow Warbler |
| | Wilson's Warbler |
| | Nashville Warbler |
| | Prairie Warbler |
Question 1 Explanation:
Yellow Warbler is the only species with bright yellow tail spots (the inner webs of most tail feathers). In addition, the entirely bright yellow underparts, without dark streaks, limits the possibilities, and the hints of reddish streaking on the flanks is shown only by Yellow.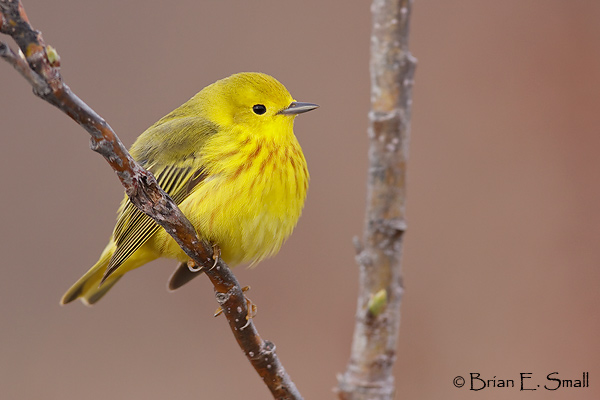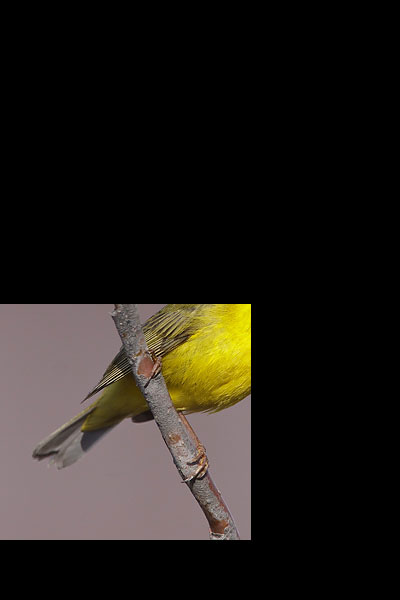 | | |
| --- | --- |
| | Yellow Warbler |
| | Prairie Warbler |
| | Palm Warbler |
| | Wilson's Warbler |
Question 2 Explanation:
Entirely bright yellow underparts and an unmarked grayish tail without white spots is a combination shown only by Wilson's Warbler and the Connecticut-Mourning-MacGillivray's group. Species in the latter group would show a bulkier tail and undertail coverts than Wilson's, darker olive wings, olive on the flanks, and some of the gray hood would be visible even in the partial view above.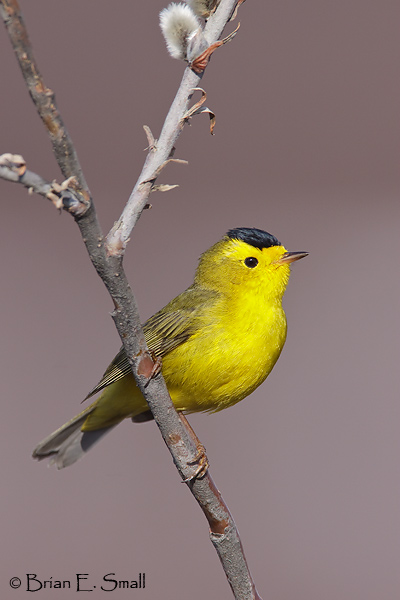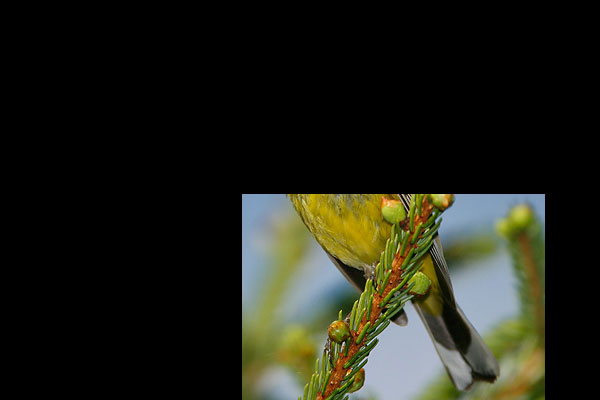 | | |
| --- | --- |
| | Yellow Warbler |
| | Palm Warbler |
| | Wilson's Warbler |
| | Prairie Warbler |
Once you are finished, click the button below. Any items you have not completed will be marked incorrect.
There are 3 questions to complete.