Today's quiz features a bonus

And we have a winner! Congratulations to Laramie, and thanks to everyone who entered!

There will be another quiz giveaway next week – stay tuned.


Everyone who submits a perfect score by 9 PM Eastern Time on Thursday May 10th, will be entered in a drawing to win a prize.

The prize this week is a signed copy of my poster "Waterfowl of North America" Or take your pick of any of my other posters – Trees, Hummingbirds, Raptors, Owls, etc.) Of course, even if you don't win, you can still order the posters from Scott & Nix.

After you get all five questions correct, just be sure to click the "Get Results" button at the end of the quiz and then submit your results.

There is no limit to how many times you can attempt the quiz, so feel free to keep trying until you get all five questions right. ((Some more rules: This contest is open to anyone, however, the prize must be deliverable by the United States Post Office to an address in the United States or Canada only. No shipments outside of this area will be made.
The winner will be notified by email.
Entering your email address means that you might receive occasional emails from me in the future about Sibley Guides news and events, but I will never give your email address to anyone else.))

Scroll down to take the quiz, and good luck!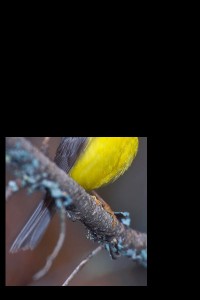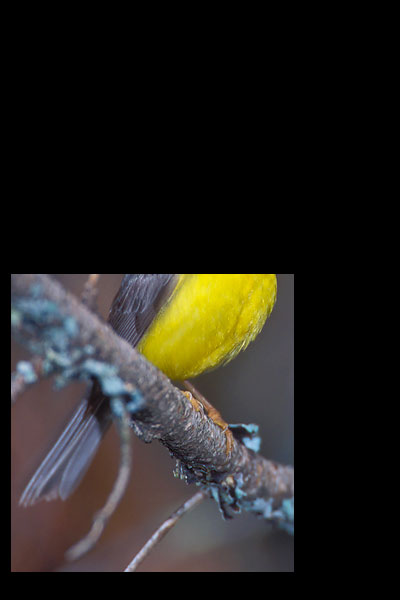 As in the last quiz this one shows warblers as they are so often seen in the field – with just the underside of the body visible. Clues such as tail shape, overall size, behavior and other subtleties can be very helpful with experience. In this quiz I focus on the more objective features of plumage.
When all you can see is the belly, flanks, and tail of a warbler, you will have to rely on tail pattern, any streaking, and the overall pattern of dark/light and bright/drab. Leg color can also be helpful. You should be able to identify most species by matching those patterns to the pictures in the guide, and with practice you will recognize more and more warblers from these small clues.
With thanks, again, to Brian E. Small for providing the beautiful photos. You can see lots more at his website.
[mtouchquiz 43]