→ Last Updated on
Today's quiz features a bonus

And we have a winner – Congratulations to Nicholas! Thanks to all who entered. Watch for another quiz giveaway in the near future.


Everyone who submits a perfect score by 9 PM Eastern Time on Thursday May 24th, will be entered in a drawing to win a prize.

The prize this week is my Red-tailed Hawk t-shirt design from Liberty Graphics. Or take your pick of any of my other t-shirts from Liberty Graphics – Bluebird, Saw-whet Owl, Warblers, Hummingbirds, etc.) Of course, even if you don't win, you can still order the shirts from Liberty Graphics here.

After you get all five questions correct, just click the "Get Results" button at the end of the quiz and then submit your results.

There is no limit to how many times you can attempt the quiz, so feel free to keep trying until you get all five questions right.1

Scroll down to take the quiz, and good luck!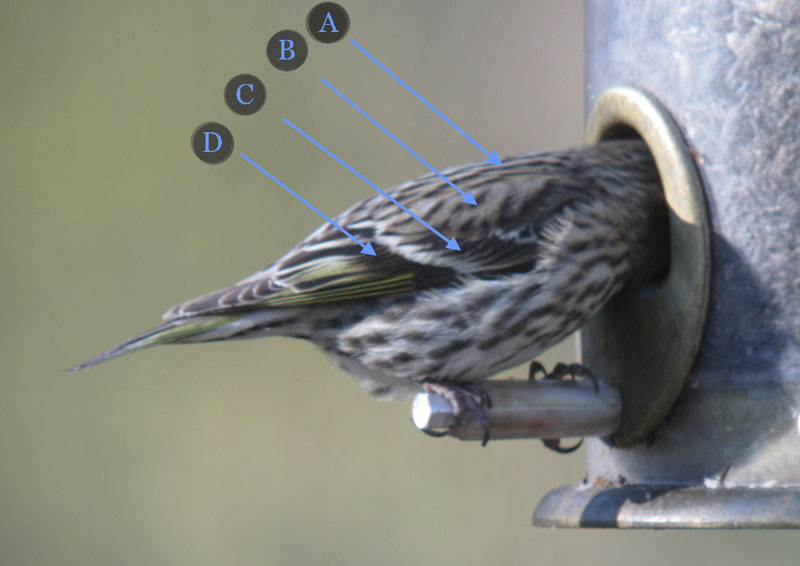 More Upperparts feathers
Congratulations - you have completed More Upperparts feathers. You scored %%SCORE%% out of %%TOTAL%%. Your performance has been rated as %%RATING%%

Your answers are highlighted below.
The species is:
| | |
| --- | --- |
| | House Finch |
| | Pine Siskin |
| | Northern Waterthrush |
| | Savannah Sparrow |
Question 1 Explanation:
The fact that it's sticking its head completely into a feeder eliminates waterthrush and Savannah Sparrow, it can only be a finch. The crisp streaking and faint yellowish edges on the wing and tail feathers make this a siskin.
The feathers marked A are the:
| | |
| --- | --- |
| | Greater Coverts |
| | Mantle |
| | Nape |
| | Scapulars |
Question 2 Explanation:
The mantle feathers grow on the center of the back, forming streaks aligned with the body.
The feathers marked B are the:
| | |
| --- | --- |
| | Mantle |
| | Scapulars |
| | Secondaries |
| | Greater coverts |
Question 3 Explanation:
The scapulars grow out and down from the shoulder and overlap the base of the wing. In this photo the difference in the angle of mantle and scapular feathers is very clear.
The feathers marked C are the:
| | |
| --- | --- |
| | Secondaries |
| | Lesser coverts |
| | Greater coverts |
| | Scapulars |
Question 4 Explanation:
The greater secondary coverts form a rectangular panel angled across the forward half of the wing. Here they are dark with pale tips that form a wingbar, and farther forward on the wing you can see the narrow pale tips of the median coverts forming another wingbar.
The feathers labeled D are the:
| | |
| --- | --- |
| | Secondaries |
| | Scapulars |
| | Rump |
| | Primaries |
Question 5 Explanation:
The secondaries of songbirds are most of the rear half of the folded wing, behing the greater coverts. On Pine Siskin they have pale edges towards their tips, but the base is all dark forming a dark band just behind the greater coverts. The primaries are just visible below them and form the long point of the wing.
Once you are finished, click the button below. Any items you have not completed will be marked incorrect.
There are 5 questions to complete.
Some more rules: This contest is open to anyone, however, the prize must be deliverable by the United States Post Office to an address in the United States or Canada only. No shipments outside of this area will be made.
The winner will be notified by email.
Entering your email address means that you might receive occasional emails from me in the future about Sibley Guides news and events, but I will never give your email address to anyone else. [↩]