I've been neglecting trees in my posts recently, but here in Massachusetts spring is the best time of year for tree-watching, and today the sun was out offering some good photo opportunities.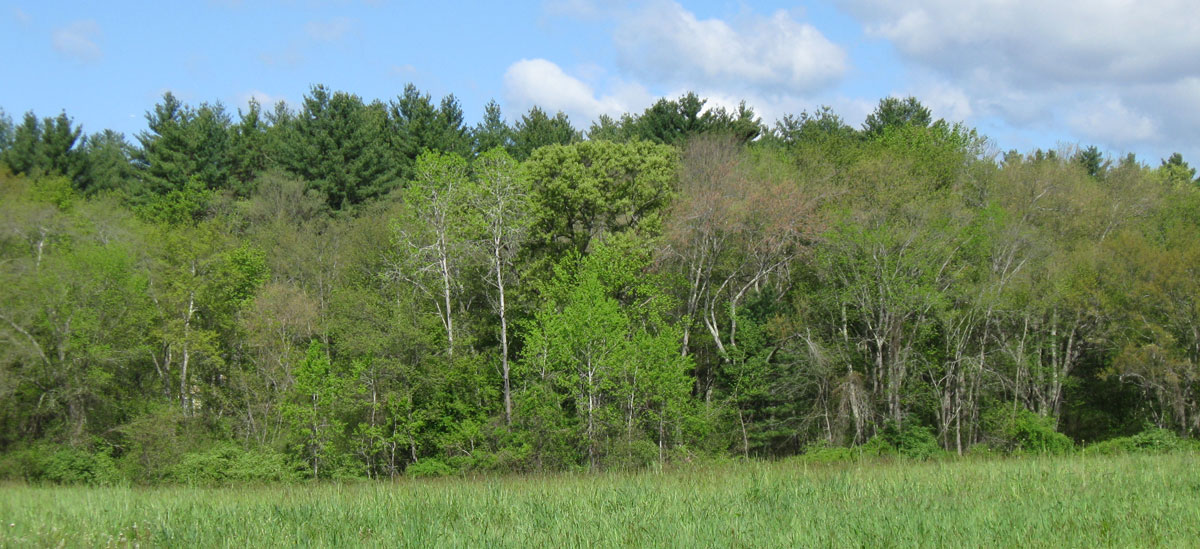 Here's a typical field edge scene in Massachusetts now (early May), with five species of trees visible and identifiable.
The dark grove on the horizon is all Eastern White Pine, with branches forming long upswept sprays.
In the center are some Quaking Aspens, with the brightest green leaves and white trunks. (Bigtooth Aspen is just beginning to leaf out now, so we can be confident these are Quaking).
The slightly reddish tree just right of center is a Red Maple, a female, putting all of her energy into making seeds (which are red) and not putting out leaves yet (which will be green). Most of the trees visible in this scene are Red Maples, and most have green leaves, but the slightly orange-tinged tree farthest right is another female Red Maple showing a blend of orange-red fruit and green leaves.
The tall tree in the center with pea-green color is a red oak just leafing out, and the leaves arranged in rounded clumps is typical of oaks (and very different from Red Maple, for example).
Finally, there is one American Elm, just right of the reddish Red Maple, showing rich green leaves and you can just make out the bouquet-shaped form.
This photo shows another scene with seven identifiable species of trees. Take the quiz below to test your knowledge or just to learn the answers.
Spring Trees in Massachusetts
Congratulations - you have completed Spring Trees in Massachusetts.
You scored %%SCORE%% out of %%TOTAL%%.
Your performance has been rated as %%RATING%%
Your answers are highlighted below.
The leafless tree at the left is:
Question 1 Explanation:
The relatively stout, straight twigs all pointing up is characteristic of Ash, and they are one of the latest trees to leaf out, so that offers a supporting clue.
The large tree left of center with pale greenish foliage is:
Question 2 Explanation:
This is actually a Scarlet Oak, in the red oak group, which all show a strong central trunk, rounded crown, and this time of year a "haze" of pale green or whitish emerging leaves and flowers. This would be a good place to look for migrating warblers, as a lot of early insects hang around in flowering oaks.
The smaller, bright green, leafy trees in the center are:
| | |
| --- | --- |
| | Red Oak |
| | Red Maple |
| | American Elm |
| | Quaking Aspen |
Question 3 Explanation:
Aspens are one of the earliest trees to leaf out, with intensely green leaves, and for weeks in the spring they can be identified by that fact alone. Another clue is that they usually grow in groves like this, with all of the visible trees being "clones" of the same plant, from a single root system. This explains why they are all at the identical stage of leaf development, most species of trees show a lot of variation in timing.
The round-topped dark green tree just right of center is:
| | |
| --- | --- |
| | Eastern White PIne |
| | American Elm |
| | Pitch Pine |
| | Eastern Black Oak |
Question 4 Explanation:
We can tell it's a conifer because of the dense and dark green foliage on this date, and a Pitch Pine because of the relatively neat oval crown and needles looking like they are in small clumps.
The mostly leafless tree near the right is:
| | |
| --- | --- |
| | Red Oak |
| | American Elm |
| | Red Maple |
| | Ash |
Question 5 Explanation:
There is tremendous variation in timing and appearance of Red Maples in early May. Some have nearly full-grown green leaves, some (like this one) are just beginning to leaf out. The species can be identified by the form of the twigs, which grow out in long sprays in all directions. I think of them as a cluster of fireworks, and only Red and Silver Maples have this form.
The dark green tree at the far right is:
| | |
| --- | --- |
| | Eastern Black Oak |
| | Pitch Pine |
| | Black Cherry |
| | Eastern White Pine |
Question 6 Explanation:
Another conifer, but notice how different the overall shape is compared to the Pitch PIne. Branches form characteristic long tapered sprays that are upswept at the tips making a very irregular shape to the crown.
BONUS QUESTION: The seventh species of tree is just barely identifiable. One grows between the Ash and the Red Oak, against the backdrop of the leftmost Pitch Pine, and another is just visible above the tallest aspens. It is:
| | |
| --- | --- |
| | Gray Birch |
| | American Elm |
| | Black Cherry |
Question 7 Explanation:
The one on the left is easiest to identify. Clues are: crooked, dark gray trunk and branches, with the trunk dividing low; leaves scattered throughout crown, not clumped or arranged in sprays.
Once you are finished, click the button below. Any items you have not completed will be marked incorrect.
There are 7 questions to complete.