I've been neglecting trees in my posts recently, but here in Massachusetts spring is the best time of year for tree-watching, and today the sun was out offering some good photo opportunities.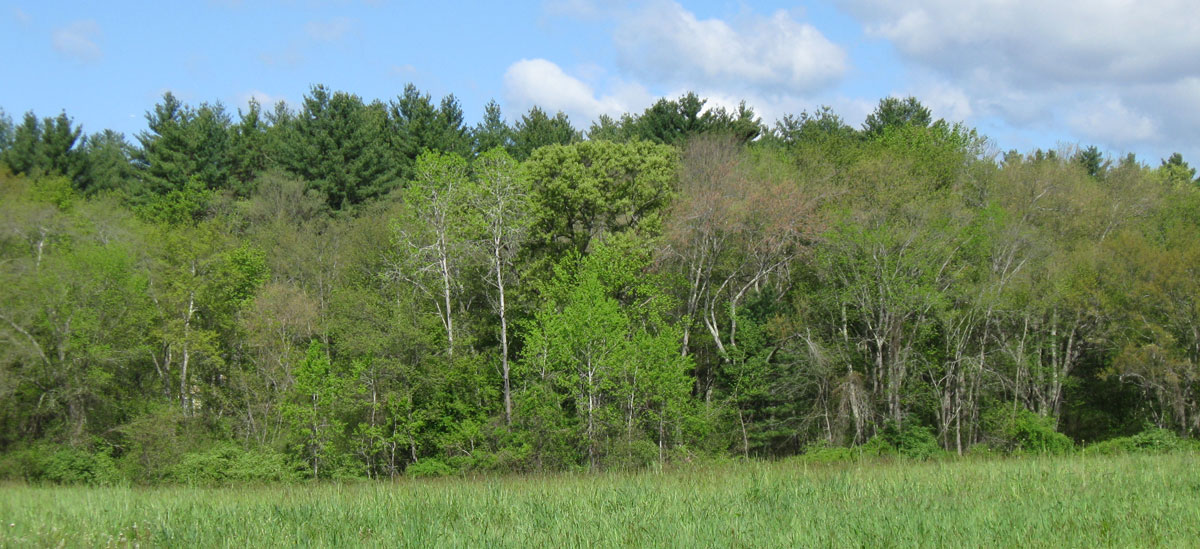 Here's a typical field edge scene in Massachusetts now (early May), with five species of trees visible and identifiable.
The dark grove on the horizon is all Eastern White Pine, with branches forming long upswept sprays.
In the center are some Quaking Aspens, with the brightest green leaves and white trunks. (Bigtooth Aspen is just beginning to leaf out now, so we can be confident these are Quaking).
The slightly reddish tree just right of center is a Red Maple, a female, putting all of her energy into making seeds (which are red) and not putting out leaves yet (which will be green). Most of the trees visible in this scene are Red Maples, and most have green leaves, but the slightly orange-tinged tree farthest right is another female Red Maple showing a blend of orange-red fruit and green leaves.
The tall tree in the center with pea-green color is a red oak just leafing out, and the leaves arranged in rounded clumps is typical of oaks (and very different from Red Maple, for example).
Finally, there is one American Elm, just right of the reddish Red Maple, showing rich green leaves and you can just make out the bouquet-shaped form.
This photo shows another scene with seven identifiable species of trees. Take the quiz below to test your knowledge or just to learn the answers.
[mtouchquiz 44]