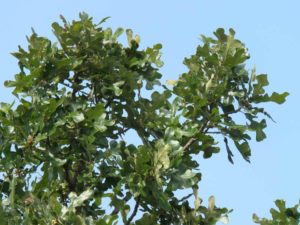 The quiz below shows four photographs of the leafy crowns of trees, as you might see them while looking for birds through binoculars or telescopes. Differences in leaf "posture", arrangement, and color are just as obvious as differences in leaf shape, and all of these species are readily distinguishable at a glance, even in silhouette.
Just like beginning birdwatching, you can start by learning to recognize a few common and distinctive species of trees that you see every day, and as those become familiar you will add more species to your "repertoire".
These photos were all taken with a Canon digital camera held to a Swarovski telescope at The Nature Conservancy's Mashomack Preserve, Shelter Island, New York, on 27 August 2012.

[mtouchquiz 60 title='off']