→ Last Updated on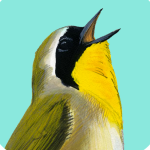 Song Sleuth main page
Song Sleuth is a new bird song identification app, created by Wildlife Acoustics. Watch the detailed walk-through video
You can find the app now in the iTunes app store.
If your question is not answered below, for tech support email songsleuth@wildlifeacoustics.com
Does it work?
Yes. When used to its full potential the app will correctly identify sounds of the covered species with a high degree of accuracy. The fully automatic suggestions that pop up as soon as a recording is ended often include the correct answer, but the best results come if you take just a few seconds to highlight the target sound in the recording (filtering and trimming are quick and easy, see below).
Your results will improve as you gain experience with the best ways you can assist the app, and you will be learning about bird songs at every step of the process. Some species are harder for the app to identify, and some individuals of every species are problematic. In these cases accuracy should improve as more data is added to future versions of the app.
What species can be identified by the app?
The full list of species is here. Currently (version 1.0 Feb 2017) the app includes 189 species of birds, along with 3 species of frogs and toads, and 3 species of squirrels and chipmunks.
A variety of sounds from each species are covered (e.g. chickadees can be identified by either the whistled song or the "chik-a-dee" call) but in general only longer and more complex (more distinctive) sounds are recognized. Short chips and squeaks are not "known" to the app and will not be identified, nor are woodpecker drumming sounds.
I tried Song Sleuth at home with some songs from my computer and it got them all wrong, what's up?
The app is designed to work with live birds outdoors. A recording might sound similar to us, but it is different enough to confuse the app, and accuracy is generally lower.
What makes an ideal recording?
A short recording, with uniform background noise, a half second or so of plain background noise at the beginning of the recording, and the target sound standing out clearly from any background noise (not overlapping with other birds or distinct sounds). Steady background noise is OK even if it's fairly loud, as that can be filtered out, but intermittent noises like the swish of a sleeve, footsteps, barking dogs, human voices, etc can confuse the app.
What are the best ways to maximize accuracy?
get the clearest recording you can, with the target sound isolated from other sounds, and with a half-second or more of typical background noise at the beginning of the recording (and it works best with live birds outdoors, not so well with playback of recorded sounds indoors)
filtering the sound by zooming in on the frequency of the target sound (spreading your fingers top to bottom) will help isolate the sound and improve accuracy
cropping (or trimming) a recording to cut out extraneous sounds at the beginning or end also helps to get the correct ID
shorter recordings are actually better than long (but you can make a long recording and then crop it)
It's a collaboration between you and the app, don't expect perfect accuracy on the first try, and remember that the app does not attempt to identify short chips and squeaks
Enjoy it, learn from it, and let us know how it's working
The app is suggesting species that sound completely different from what I recorded, what's wrong?
Check to make sure that you haven't zoomed in on a narrow frequency band, as the app will only analyze the visible frequencies on the screen (see filtering recordings)
The app is a computer program, and is using a strictly analytical approach to sound pattern matching. This means that it can return results that seem nonsensical from our perspective. Usually this is because there is some extraneous noise in the recording, and the app will sometimes suggest either very low-pitched sounds (e.g. Mourning Dove, Human, etc) or very high-pitched sounds (e.g. Cedar Waxwing, Black-capped Chickadee, etc) when we clearly hear something else.
In these cases simply filtering out the high and low frequencies and running the analysis again on the target sound should lead to a positive result. See the tutorial on filtering recordings.
In other recordings there might be confusing sounds before or after the target sound. In these cases it is helpful to trim, or crop, the unnecessary parts of the recording. This takes a little more effort than filtering, but leads to similar improvements in accuracy. Read more about trimming here.
What happens if I record a species that's not included in the app?
As a computer program, Song Sleuth is simply matching patterns in the recorded sound to stored patterns in its database. When it encounters a new sound it doesn't say "Wow, I've never heard anything like that before! I have no idea." Instead it simply finds the closest matches for that sound in its database, and offers suggestions.
Does Song Sleuth use location and date to help identify bird sounds?
Yes, you must select your state from the top of the "Species List" page, which limits the species under consideration to the list for that state, and also uses seasonal data to further limit the species to those that could be present today.
Can Song Sleuth identify sounds in the distance, or in a noisy environment, or in a chorus of other birds?
The general rule is that the cleanest and strongest recording is the best. You want the signal (bird song) to stand out above any noise, and also to be isolated from other bird sounds or other noises.
That said, the iPhone and Song Sleuth together do a good job of picking out faint sounds, and the app is capable of identifying moderately distant sounds. Overlapping bird sounds in a chorus are definitely a challenge (but for some species that are often found in noisy flocks, e.g. Canada Goose, Common Grackle, etc, the app has been trained to recognize the flock chorus). In all cases trimming and filtering will help to isolate one sound and allow the app to work.
Does it require an internet connection?
No internet connection is required, all of the data is contained in the app, and the analysis happens in the phone.
How much space does it require on the phone?
The app is listed at 388 MB. It will take up at least a little more than that as it gives the option to save all of your recordings, but recordings are easy to manage, export, and delete. And because short recordings are best for ID, it's easy to end up with 100 recordings taking up under 50 MB of space.
Is it available for Android?
An Android version is in the works, planned for fall 2017.
What operating system does it require?
Song Sleuth requires iOS 8 or higher.