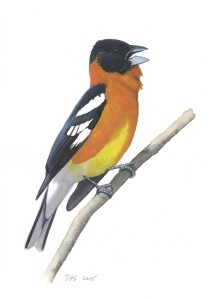 Warranty – I understand that no digital image can truly convey the look and feel of a piece of original art, and that you take a leap of faith by buying art you've only seen through the website. If the artwork you receive is not what you expected, or is unsatisfactory for any reason, simply contact me and return it in its original condition for a full refund.
Payment is through PayPal. If you are not a PayPal member you can still use any major credit card through the PayPal portal, which is easy and secure. If you're a Massachusetts resident you will see sales tax added to your order.
Shipping is via USPS Priority Mail. Please allow 7-10 days for packing and shipping to the continental US. If you need something quickly, or internationally, or have any other questions about shipping, please contact me.
About the auctions
Auctions are typically scheduled to run for about one week. If multiple auctions are scheduled they will each close at a different time. Bids can be entered only in increments of $10.
This auction uses proxy bidding like eBay, which means that you can enter your maximum bid and the software will act as your proxy to place bids as needed to counter other bidders. If no one reaches your maximum bid, you will only need to pay the highest bid that was placed against you. Viewed from the other side, if you place a bid and the site enters a bid under a different name, that means your bid was instantly countered by a proxy bidder, someone is already registered who is willing to go at least as high as that amount. If you want to learn more about this you can read an explanation at Wikipedia.
The winner of the auction will receive an email notification, with a link to a payment page where you can use a Paypal account or any major credit card.
Massachusetts residents will see sales tax of 6.25%.
If you would like to make other arrangements for payment, or have other questions, you can contact me.
Shipping
The cost of shipping to the continental US via USPS ground is included in the auction price. Overnight delivery or shipping to other countries is available at additional cost. The winning bidder can contact me for details and pay separately for these services if needed.