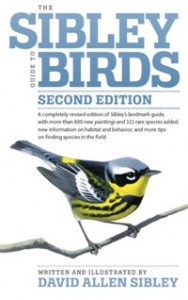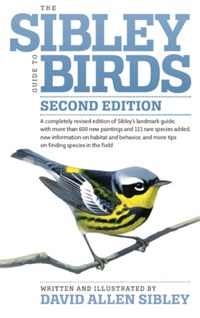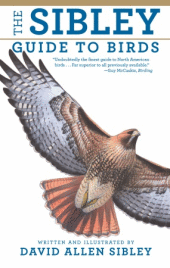 Information from Alfred A. Knopf, Inc (publisher)
Info and sales at your local independent bookstore or Amazon.com
Publishing history: First edition, first printing in Oct 2000
minor corrections and updates in 4th printing in 2001 (those changes are listed here)
new cover design in Sep 2009
A UK edition "The North American Bird Guide" published in 2000 by A. & C. Black
A leatherbound limited edition is published by Easton Press
The Bird Info page has in-depth discussions of bird identification and updates to the bird guides, listed by species.
Changes to official bird names since 2000
A comment on subspecies names in The Sibley Guide to Birds
A list of subspecies illustrated and their scientific names
A comment on the colors and maps in the Sibley Guide to Birds
The Sibley Guide to Birds represents more than 12 years of work by David Allen Sibley. The final draft of the artwork and text took over six years to complete, and the finished book was published in October 2000.
Before painting and writing the final draft David spent over 6 years working on the problems of layout and design. The challenge was to meet the goal of illustrating every species and every significant plumage variation; illustrating every species in flight from above and below; describing the complete range of vocalizations for each species; showing all significant subspecies variations; and doing it all in a format that is logical and easy to understand so that even beginners would not be overwhelmed by the amount of information.
The solution was a new and unique design arranging each species in a vertical column on the page. Most two-page spreads show four species, with the images of birds in flight lined up across the top of the pages, birds at rest below that are arranged from the drabbest plumage at the top to the brightest at the bottom. Beneath that is the voice description and then the range map. The book can be thought of as a continuous strip to be scanned horizontally, with birds in flight across the top and range maps across the bottom.
Arranging the birds in this orderly way allows the user to make comparisons easily between different plumages of the same species (by scanning up and down) as well as between similar plumages of different species (by scanning left to right). If you've seen a drab fall warbler, all you need to do is scan the upper images of each species to see all of the drabbest warblers. If you've seen a woodpecker in flight, a quick horizontal scan across several pages will show all the possibilities at a glance.