Color Giclee prints for conservation
These are archival quality 9″ by 11″ prints of some of my recent work, and a portion of the proceeds from the sale of each one is donated to a conservation effort related to that species. For more details on each print just click on the image.
More prints will be added to this series on a regular basis, so be sure to check in regularly, or watch the Sibley Guides blog or Facebook page for news.
Black-and-white prints from "The Wind Masters"
Osprey and Bald Eagle prints are sold out. This set of prints is taken from artwork originally published in The Wind Masters by Pete Dunne (Houghton Mifflin Co., 1995). The original drawings were done in 1993 and 1994 on scratchboard, a medium in which ink is applied to a board and then partly scraped off. The prints are each 11.5" high by 9.5" wide. They are printed on acid-free paper in a limited edition of one hundred each, individually signed and numbered, and are available for $50 each. Send me an email if you have any questions about these prints.
Long-eared Owl
This painting was done in 2000, in gouache on Bristol Board. Prints are available from the Ned Smith Center for Nature and Art.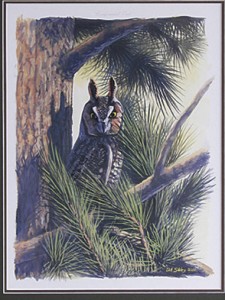 Pyrrhuloxia
Prints are available from Bird Watchers Digest.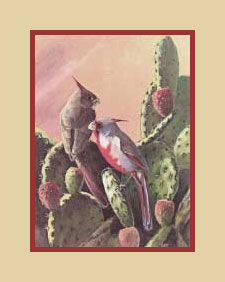 Golden-winged Warbler
Prints are available from Bird Watchers Digest.
Proceeds benefit the National Wildlife Refuge System