I have made prints of this gouache painting of a Northern Saw-whet Owl from 2006 (more info about my gouache technique here). This painting also appeared in a weekly newspaper column "Sibley on Birds", and the original was auctioned to benefit the Ned Smith Center for Nature and Art.
A portion of the sale of each print will be donated to help fund the work of bird conservation.
One such group is Project Owlnet, which facilitates communication and cooperation among hundreds of owl-migration researchers in North America, in particular studying the amazing migrations of Northern Saw-whet Owls.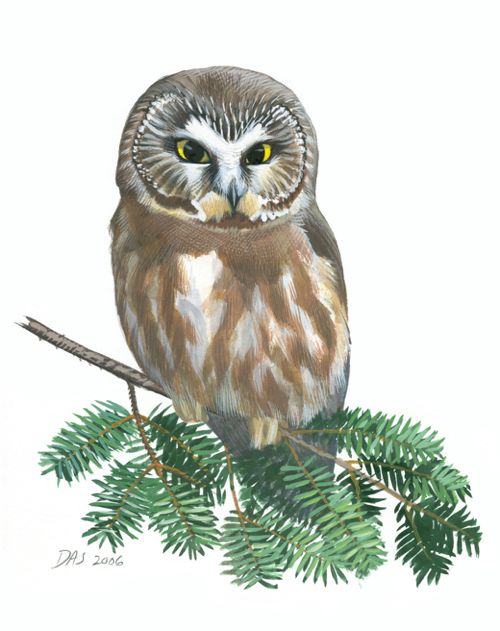 Price: $45

When you click the "add to cart" button your "cart" will appear at the bottom of this page.
[wp_cart_button name="Northern Saw-whet Owl print" price="45.00″]

This 9 X 11″ limited edition giclee print is made with archival ink and paper. The edition is limited to 300 prints (with one Artist's proof). Each print is signed and numbered, and comes with a certificate of authenticity.

Payment is through PayPal. If you are not already a PayPal member you can still pay with a credit card through the PayPal portal, which is easy and secure.

The shipping fee is $7 per shipment (not per print, higher outside the US); shipping is free on orders of three or more prints. Sales tax will be added for shipments to Massachusetts addresses.

Shipping is via USPS Priority Mail; please allow up to 3 weeks for packaging and shipping (contact me if you need faster delivery).

[show_wp_shopping_cart]