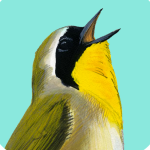 Song Sleuth main page
Song Sleuth is a new bird song identification app, created by Wildlife Acoustics. Watch the detailed walk-through video
You can find the app now in the iTunes app store.
Here is the complete list of species currently included in Song Sleuth (version 1.0.1)
189 species of birds are included, along with 3 species of frogs and toads, and 3 species of squirrels and chipmunks.
A variety of sounds from each species are covered (e.g. chickadees can be identified by either the whistled song or the "chik-a-dee" call) but only longer and more complex (more distinctive) sounds in general are recognized. Short chips and squeaks are not "known" to the app and will not be identified. Drumming sounds of woodpeckers are also not included.
We tried to include all of the most frequently encountered and distinctive bird sounds of the populated parts of the US and Canada, but some species have been (so far) too difficult for the app to identify, and these are not included. Among the common species NOT included are Northern Mockingbird and several species of thrashers. Gray Catbird is included, but only by its call, the app will not recognize a Catbird's song. All of these are in the family Mimidae, known for their rambling, complex songs that include many imitations of other species.
Work is ongoing, and hopefully a future version of the app will be able to include these and other species.
Birds
Anatidae
Canada Goose
Odontophoridae
California Quail
Gambel's Quail
Northern Bobwhite
Pandionidae
Osprey
Accipitridae
Bald Eagle
Red-shouldered Hawk
Broad-winged Hawk
Red-tailed Hawk
Charadriidae
Killdeer
Scolopacidae
American Woodcock
Columbidae
Rock Pigeon
Band-tailed Pigeon
Eurasian Collared-Dove
Inca Dove
Common Ground-Dove
White-winged Dove
Mourning Dove
Cuculidae
Yellow-billed Cuckoo
Black-billed Cuckoo
Tytonidae
Barn Owl
Strigidae
Eastern Screech-Owl
Great Horned Owl
Barred Owl
Alcedinidae
Belted Kingfisher
Picidae
Red-headed Woodpecker
Acorn Woodpecker
Red-bellied Woodpecker
Ladder-backed Woodpecker
Downy Woodpecker
Hairy Woodpecker
Northern Flicker
Pileated Woodpecker
Falconidae
American Kestrel
Tyrannidae
Western Wood-Pewee
Eastern Wood-Pewee
Acadian Flycatcher
Least Flycatcher
Pacific-slope Flycatcher
Black Phoebe
Eastern Phoebe
Say's Phoebe
Ash-throated Flycatcher
Great Crested Flycatcher
Cassin's Kingbird
Western Kingbird
Eastern Kingbird
Laniidae
Loggerhead Shrike
Vireonidae
White-eyed Vireo
Bell's Vireo
Hutton's Vireo
Yellow-throated Vireo
Cassin's Vireo
Blue-headed Vireo
Plumbeous Vireo
Warbling Vireo
Red-eyed Vireo
Corvidae
Steller's Jay
Blue Jay
Western Scrub-Jay
Black-billed Magpie
Yellow-billed Magpie
American Crow
Fish Crow
Common Raven
Paridae
Carolina Chickadee
Black-capped Chickadee
Mountain Chickadee
Chestnut-backed Chickadee
Oak Titmouse
Tufted Titmouse
Sittidae
Red-breasted Nuthatch
White-breasted Nuthatch
Pygmy Nuthatch
Brown-headed Nuthatch
Certhiidae
Brown Creeper
Troglodytidae
Canyon Wren
House Wren
Pacific Wren
Winter Wren
Carolina Wren
Bewick's Wren
Polioptilidae
Blue-gray Gnatcatcher
Regulidae
Golden-crowned Kinglet
Ruby-crowned Kinglet
Sylviidae
Wrentit
Turdidae
Eastern Bluebird
Western Bluebird
Mountain Bluebird
Veery
Hermit Thrush
Wood Thrush
American Robin
Varied Thrush
Mimidae
Gray Catbird
Sturnidae
European Starling
Bombycillidae
Cedar Waxwing
Peucedramidae
Olive Warbler
Parulidae
Ovenbird
Worm-eating Warbler
Louisiana Waterthrush
Northern Waterthrush
Golden-winged Warbler
Blue-winged Warbler
Black-and-white Warbler
Prothonotary Warbler
Swainson's Warbler
Tennessee Warbler
Orange-crowned Warbler
Lucy's Warbler
Nashville Warbler
Virginia's Warbler
Connecticut Warbler
MacGillivray's Warbler
Mourning Warbler
Kentucky Warbler
Common Yellowthroat
Hooded Warbler
American Redstart
Cape May Warbler
Cerulean Warbler
Northern Parula
Magnolia Warbler
Bay-breasted Warbler
Blackburnian Warbler
Yellow Warbler
Chestnut-sided Warbler
Blackpoll Warbler
Black-throated Blue Warbler
Palm Warbler
Pine Warbler
Yellow-rumped Warbler
Yellow-throated Warbler
Prairie Warbler
Grace's Warbler
Black-throated Gray Warbler
Townsend's Warbler
Hermit Warbler
Black-throated Green Warbler
Canada Warbler
Wilson's Warbler
Red-faced Warbler
Painted Redstart
Yellow-breasted Chat
Emberizidae
Chipping Sparrow
Clay-colored Sparrow
Field Sparrow
Brewer's Sparrow
Dark-eyed Junco
White-crowned Sparrow
White-throated Sparrow
Song Sparrow
California Towhee
Green-tailed Towhee
Spotted Towhee
Eastern Towhee
Cardinalidae
Hepatic Tanager
Summer Tanager
Scarlet Tanager
Western Tanager
Northern Cardinal
Rose-breasted Grosbeak
Black-headed Grosbeak
Blue Grosbeak
Lazuli Bunting
Indigo Bunting
Painted Bunting
Dickcissel
Icteridae
Bobolink
Red-winged Blackbird
Western Meadowlark
Eastern Meadowlark
Brewer's Blackbird
Common Grackle
Boat-tailed Grackle
Great-tailed Grackle
Brown-headed Cowbird
Orchard Oriole
Bullock's Oriole
Baltimore Oriole
Fringillidae
House Finch
Purple Finch
Cassin's Finch
Pine Siskin
Lesser Goldfinch
American Goldfinch
Passeridae
House Sparrow
Frogs and Toads
Spring Peeper
American Toad
Gray Tree frog
Mammals
Eastern Chipmunk
Gray Squirrel
Red Squirrel
Human