I recently posted about an apparent hybrid sandpiper in Thailand. A few days earlier on the same trip (7 Feb 2010) I had seen another odd sandpiper that didn't fit any known species. As I've worked on this post I feel safe ruling out Curlew Sandpiper, and the only things wrong for Dunlin are the fine-tipped bill and my impressions at the time that it was small and unusual. It's possible that this one is also a hybrid, although I lean towards an odd Dunlin. A few photos are below, more can be seen in a Picasa gallery here.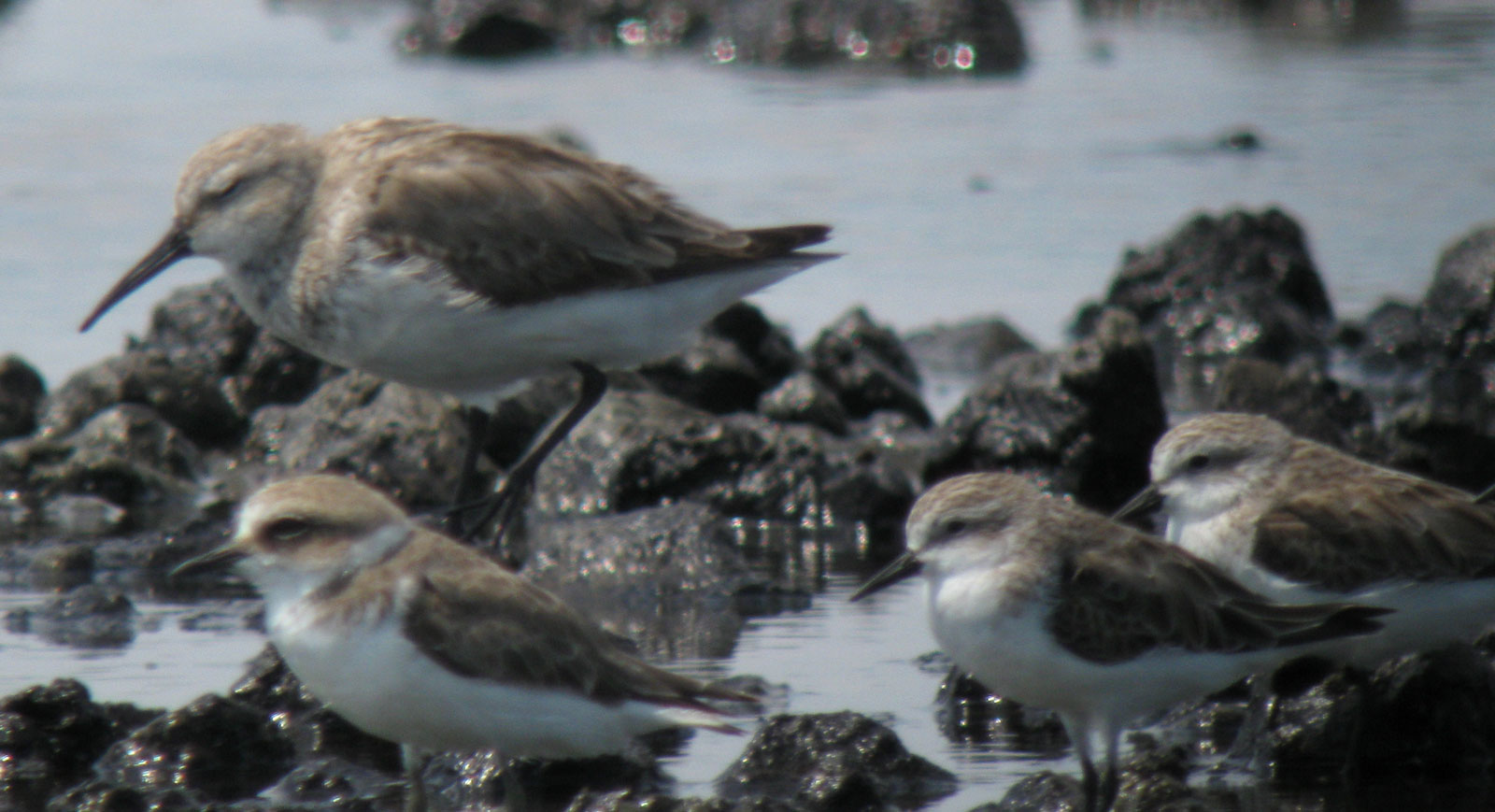 When I first spotted it, roosting with a flock of Red-necked Stints and plovers, it struck me immediately as something odd. It was smaller, stockier, and shorter-billed than the numerous Curlew Sandpipers in the area (none of which were roosting with stints), and my first thought was that it was a Dunlin of one of the smaller subspecies. I was able to take a few marginal photos before the whole flock took off together and headed out to their low tide feeding areas. Unfortunately I could not pick it out in flight, and did not hear any flight calls.
Reviewing the photos later revealed several things that look wrong for Dunlin:
bill too slender and fine-tipped
pale eyebrow and dark eyeline too prominent, lacking the pale area behind the eye that Dunlin typically shows
seeming too pale overall, especially the rump, but also the head and breast
It is wrong for Curlew Sandpiper in several ways:
gray-brown rump
bill too short
too small and short-winged, with tail projecting slightly beyond wingtips
Given that there are features of structure and plumage that seem to rule out Curlew Sandpiper and argue against Dunlin, a hybrid seems like a possibility, but I can't think of any combination that would look so much like Dunlin without being one.
The paleness might be a separate anomaly, such as leucism (or maybe it's just very faded and worn). In hybrids involving a dark-rumped species and a white-rumped species (Pectoral Sandpiper x Curlew Sandpiper or Dunlin x White-rumped Sandpiper), the area of dark is reduced, but the dark color remains the same. So maybe this bird is a short-winged, runt, dark-rumped Curlew Sandpiper, or maybe a slender-billed Dunlin. I just don't know what to make of it.
I know there's not much to go on here, given the brief observation and low-quality photos, but maybe someone else has seen a similar bird. Any comments and discussion are welcome.