A few species of birds with false eyespots are well-known: pygmy-owls and American Kestrel come to mind. In these species of birds, spots on the back of the head produce the illusion of eyes, and create what is called deflective (or parasematic) coloration. Deflective coloration is defined as patterns which "produce the impression of a head at the wrong end" and "characters which misdirect the attack of enemies by misrepresenting the posture of their prey" (Cott, 1940). William Clay (1953) wrote about deflective coloration in the American Kestrel, and shows how the head markings of that species create false faces on the back and on each side of the head.
The advantages of these confusing false faces are clear. All predators rely on surprise to capture their prey, so if a predator is coming in for the attack and thinks it is being watched, it might give up on the attack, or try to maneuver around to the other side so it can approach unseen. At the least it might hesitate or change the angle of its attack and give the prey a split-second longer to see it approaching.
Our brains are wired to perceive faces at the slightest suggestion, as this article in the New York Times describes, and we can also see faces of other species. There's no reason to think that other animals are any less adept at turning vague patterns into faces.
Check out this image of a Downy Woodpecker – is it looking towards you or away?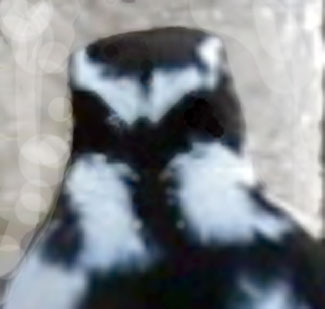 The false face on the back of the head of this Downy Woodpecker is fairly obvious. I altered the photo slightly to simplify and enhance the patterns that were already there. Below is an unaltered photo (video frame) of the same bird: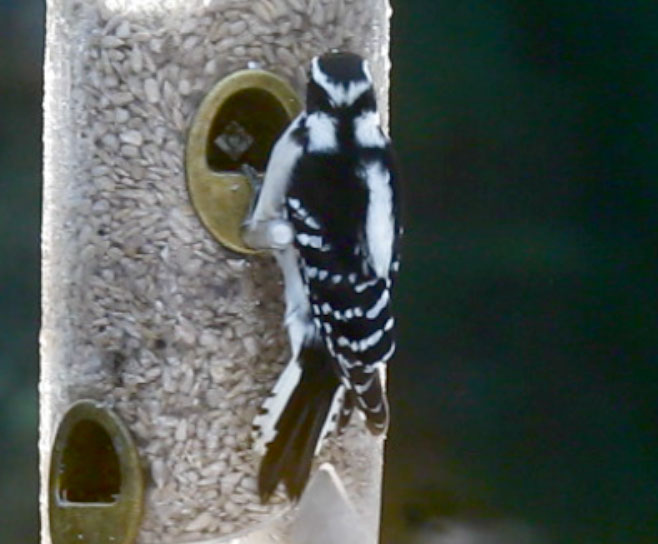 The false face, like any illusion, comes and goes as your perception shifts, but it should be enough to give a predator second thoughts about approaching from this side. The illusion of a face is most convincing when we are looking directly at the back of the head (when the bird is looking directly away) and this, not coincidentally, is the angle at which the bird is least likely to see an approaching predator and therefore is most vulnerable.
I've seen similar false faces and presumed deflective coloration on many other species of birds over the years, but this has been essentially unstudied by biologists, from what I can find. A few studies of insects, molluscs, reptiles and amphibians (examples Kamoun 1991 and a review by Cooper 1998) suggest that eyespots and/or display movements confuse predators at the moment of attack and direct them to attack a more expendable part of the prey, such as a tail. The more passive role of false faces that I propose here – preventing attack by making predators think they're being watched – seems to have received very little attention, but I think it is widespread in birds.
References
Clay, W. M. 1953. Protective Coloration in the American Sparrow Hawk. Wilson Bull. 65:129-134. pdf here
Cooper, W. E. Jr. 1998. Conditions favoring anticipatory and reactive displays deflecting predatory attack. Behavioral Ecology. Vol. 9: 598-604. pdf here
Cott, H. B. 1940. Adaptive coloration in animals. Oxford University Press, New York.
Kamoun, S. 1991. Parasematic Coloration: a novel anti-predator mechanism in Tiger Beetles (Coleoptera: Cicindelidae). The Coleopterists Bulletin, 45: 15-19. abstract here