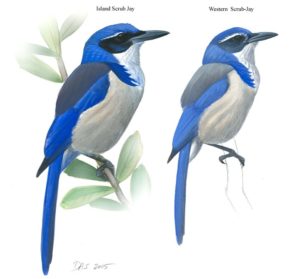 A favorite activity among avid birders is speculating and pontificating about which species should be "split" into new species (and new checkmarks on the life list). Another way of stating the question is "which subspecies should be elevated to full species status?" I've always tried to emphasize the value of paying attention to subspecies even when they don't "count" on a life list, but there's only so much you can notice and it's understandable that we all care a lot more about Island Scrub-Jay, for example, now that it's considered a species.
It can be a little overwhelming to consider the thousands of named subspecies among the 900 or so North American bird species, so I thought I would browse the list and highlight my own picks for the subspecies most deserving of species status. I offer my top ten with comments below, feel free to disagree and make suggestions. I'll revisit this subject periodically.
The last word on splitting and lumping species belongs to the AOU Checklist Committee. It should be understood that the the committee bases its decisions primarily on published research. It's easy for me and others to make very definitive statements about our impressions of what is going on in the field, and I suspect many of the committee members would agree with these statements, but the committee must have a firm basis for making a decision. No matter how obvious some of these decisions might seem, any action will have to wait for published research.
My top 10 (from most to least splittable):
Willet – Eastern and Western
These two populations have no contact on the breeding grounds, and are recognizable in all seasons by structure, plumage, and voice. I can't think of any reason to argue for maintaining these as a single species.
Whip-poor-will – Eastern and Mexican
Two populations with entirely separate breeding ranges, very different songs, differences in DNA, and subtle differences in plumage. (Nathan Pieplow of Earbirding.com reports that the AOU has now voted to split Whip-poor-will, see his post here.)
Winter Wren – Eastern and Western
Two populations differ consistently in songs, calls, and DNA, with subtle differences in plumage. This proposal has already passed an early round of voting in the checklist committee and may be official in their 2010 supplement to be published this summer. A thorough review of differences in songs and calls by Nathan Pieplow is here.
Xantus's Murrelet – Northern (scrippsi) and Southern (hypoleucus)
Two populations with little or no breeding range overlap, no evidence of hybridization and consistent differences in plumage and voice. The status quo would seem to be the only thing in favor of keeping these as a single species.
Yellow-rumped Warbler – Myrtle (Eastern) and Audubon's (Western)
Two populations differ consistently in plumage and calls, slightly in song. These were lumped as a single species in the 1970s, but further research and a shift in philosophy now points to full species status. They certainly seem at least as distinct as Baltimore and Bullock's Orioles.
White-breasted Nuthatch – Eastern, Interior West, and Pacific
A three-way split of this species would be based on obvious differences in calls, and subtle but consistent differences in plumage and bill size, as well as DNA. A thorough review of the issues by Nathan Pieplow is here.
Marsh Wren – Eastern and Western
Two populations differ consistently in song, subtly in calls and plumage. These are not quite as clear-cut as the Winter Wrens, but I predict that further research will support species status.
Fox Sparrow – Sooty, Thick-billed, Slate-colored, and Red
The Fox Sparrows have been on everyone's list of potential splits for a long time, with differences in plumage, calls, songs, and DNA. Among the reasons for inaction are lots of apparent intergrades where these populations meet, and the sheer complexity of the group. The distribution of the four groups of Fox Sparrows are similar to the sapsuckers (Yellow-bellied, Red-naped, and two forms of Red-breasted) or solitary vireos (Blue-headed, Plumbeous, and Cassin's) but the sparrows seem more distinctive and more deserving of species status.
Spruce Grouse – Taiga and Franklin's
Two populations differ significantly in plumage and display. There are reports of intergradation where their ranges meet in western Canada, but following the recent split of Blue Grouse into Dusky and Sooty these two deserve a closer look.
Western Scrub-Jay – Coastal and Interior (Woodhouse's)
Two populations differentiated by plumage and voice. Biogeographically these two resemble the Oak and Juniper Titmouse split of a few years ago. A proposal to split Western Scrub-Jay recently failed an early vote in the checklist committee for want of more research in the contact zone.
And a few also-rans:
Curve-billed Thrasher – "Eastern" and Western
Suggested for splitting recently after a DNA study revealed significant differences, these two populations are distinguished by plumage and perhaps by voice. Currently under consideration by the committee for species status. I just don't know these very well.
Eastern Meadowlark – Eastern and Lilian's
Differing slightly in DNA, plumage, and song, these two populations have long been suggested as a potential split. Nathan Pieplow has a discussion of songs here, and there are certainly some differences, I'm just not sure that it rises to the level of species.
Savannah Sparrow – Continental, Belding's, and Large-billed
I used to think that Large-billed was an obvious split, but after getting to know Belding's a little better recently (see my recent blog post), I think it's not quite so clear-cut.
Red Crossbills
With ten different call-types identified, and several studies agreeing that call types match with subtle differences in bill size and that birds of different call types rarely interbreed, this may be the most challenging and exciting field ornithology question in North America right now. The British Ornithologist's Union recognizes three species there (plus Two-barred), and if there were only three call types (with very different bill sizes) in North America there would probably be less resistance to giving them species status here. But we have at least ten call types, and a whole range of broadly overlapping bill sizes. Like Fox Sparrows, but even more so, I think the complexity of the situation prevents action. But stay tuned!