A little-known subspecies of Cliff Swallow in Mexico and Arizona appears to be very distinctive, and I offer a tentative guide to identification (and lots of questions).
Click to see a Google map showing the distribution of dark-fronted Cliff Swallows. Please leave a comment or contact me with any further info.
Variation in Cliff Swallow has been extensively studied in the north, but most studies have emphasized minor variations across the northern parts of the continent, and this seems to have obscured a truly distinctive subspecies in the southwest. There is only slight clinal variation across most of the continent; e.g. Browning (1992) recognizes only a single subspecies across northern and central North America. There is a cline from larger birds with whiter foreheads in the north to smaller with slightly darker foreheads to the southwest. Browning's study did not include the southern edge of North America, where a strikingly different subspecies P. p. swainsoni (=melanogaster) just barely enters the US in southeastern Arizona.

Status and distribution
A few nesting colonies of swainsoni exist in extreme southeast Arizona, including Sonoita, Arizona (where I saw some in the 1980s). Phillips et al (1964) list nesting records from southeastern Arizona along the San Pedro River, Sonoita area, and south of the Chiricahuas, but in the well-studied Santa Cruz Valley they knew of only a couple of late 1800s specimens from Nogales and a single record from Tucson. Oberholser (1974) lists this subspecies as a casual visitor to west Texas with a total of five specimens in Brewster and Jeff Davis Counties.
Interestingly, Phillips et al (1964) report that the nesting swainsoni in the San Pedro River colonies in Arizona do not arrive until late April, weeks later than other subspecies of Cliff Swallow in Arizona.
Here is a Google map showing known sites and percentages of dark-fronted birds. Please let me know if you have any additional info.
Possible intergradation with other subspecies
The Cliff Swallows nesting throughout California, most of Arizona, New Mexico, and Texas are all included in the subspecies P. p. tachina, which is small and somewhat dark-fronted. Even though this subspecies is often described as "dark-fronted", its forehead is typically buffy and birders would not distinguish these birds in the field from the classic "white-fronted" Cliff Swallows farther north. Small numbers of truly dark-fronted birds, presumably variants of tachina, do occur close to the range of swainsoni. For example, one of six specimens from Las Cruces, NM (MCZ) and a few specimens north to central Arizona (Fort Apache, Wickieup, etc; Phillips et al, 1964). This may be interpreted as intergradation between these forms, although birds with very dark foreheads seem to be quite rare outside of the range of swainsoni. Cliff Swallows with dark foreheads are essentially absent even in Tucson, only about fifty miles from the nearest colonies of swainsoni on the San Pedro River (pers. obs.).
Jeter (1959) remarks that in the colony of swainsoni he watched along the upper San Pedro River, all birds were easily classified as either dark- or white-fronted, there were no intermediate colors, and he identified only one apparent mixed pair among six nests that he watched. Phillips et al (1964) point out that northern birds continue to migrate through Arizona until June and question whether the white-fronted birds Jeter saw were local breeders or just migrants headed farther north.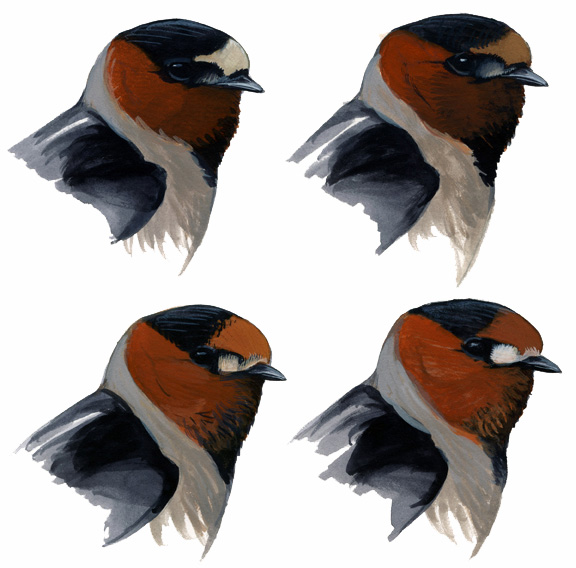 Possible distinguishing features of swainsoni
The following list of potential field marks begins with the more obvious and reliable features and ends with the more subtle and/or unreliable. All require further testing in the field.
Dark forehead – The most obvious feature and seemingly a pretty good first indication of possible swainsoni; a dark forehead (as dark as the throat) is shown by all swainsoni and by only a small percentage of other Cliff Swallows in nearby populations. In all swainsoni the forehead is about as dark as the throat, varying from drab chestnut brown to rich rufous brown. In the one apparent dark-fronted tachina specimen at MCZ, the forehead was a drab brown, slightly paler than the throat.
More extensive brown forehead color  – On swainsoni the brown forehead extends farther back, to above the eye, while on other Cliff Swallows the forehead color is less extensive and ends forward of the eye. In this feature swainsoni is similar to Cave Swallow.
Pale lores – all specimens of swainsoni at MCZ (six from Arizona and six from Mexico) have obviously pale whitish or buffy lores, with only a little black around the borders of the feather group. Other subspecies of Cliff Swallow have mostly blackish lores with a small to moderate pale patch there, which might appear obvious under some conditions in the field, but none matched the extensive and very pale patch of swainsoni.
Pale band above base of bill – The pale lores continue as a narrow pale band across the forehead just above the base of the bill on swainsoni, in contrast to all other Cliff Swallows, which have a blackish band across the front of the forehead. Southwestern Cave Swallows also have a pale band across the front of the forehead, like swainsoni.
Less black around eye – swainsoni has a more restricted dark cap on average, with rufous-brown cheek color extending up behind the eye (and also with the more extensive brown forehead). In this way they resemble Cave Swallow. The differences in color around the eye are small and hard to see, and some tachina also have reduced black behind the eye.
Small size – swainsoni is relatively small, but so are the neighboring populations of Cliff Swallow. If one of these birds turned up in, say, Washington or New York, it would probably be noticeably smaller than the local Cliff Swallows, but that would merely suggest that it was from the southwestern region.
Paler cheeks – the rufous cheeks of swainsoni are slightly paler on average than on other Cliff Swallows, contrasting more with the dark cap, but this is very difficult to judge and probably not useful in the field.
I found no differences in rump color, underparts color, back color, etc.
Summary
The southwestern subspecies of Cliff Swallow P. p. swainsoni seems distinctive in having a very dark forehead and pale lores, as well as other minor differences from adjacent populations of Cliff Swallows. Dark foreheads are sometimes seen on other Cliff Swallows, but apparently only a small minority of individuals, and only within 200 miles or so of the range of swainsoni. These birds deserve more study.
Questions:
What is the true range and status of swainsoni in Arizona? How many colonies? Where?
Do they really arrive in spring weeks later than other Cliff Swallows?
Do white-fronted birds mix with dark-fronted swainsoni in these Arizona colonies?
What is the distribution and frequency of truly dark-fronted birds outside of the limited range of swainsoni?
Do all swainsoni have pale lores?
Are there any differences in voice, nest structure, etc?
References:
Brown, Charles R. and Mary B. Brown. 1995. Cliff Swallow (Petrochelidon pyrrhonota), The Birds of North America Online (A. Poole, Ed.). Ithaca: Cornell Lab of Ornithology; Retrieved from the Birds of North America Online: http://bna.birds.cornell.edu/bna/species/149
Browning, M. R. 1992. Geographic Variation in Hirundo pyrrhonota (Cliff Swallow) from Northern North America. Western Birds 23: 21-29.  (pdf here – http://eLibrary.unm.edu/sora/wb/v23n01/p0021-p0030.pdf)
Jeter, H. H. 1959. Cliff Swallows of mixed plumage types in a colony in southeastern Arizona. Condor 61:434. (pdf here – http://elibrary.unm.edu/sora/Condor/files/issues/v061n06/p0434-p0434.pdf)
Oberholser, H. C. 1974. The Bird Life of Texas. University of Texas Press.
Phillips, A., J. Marshall, and G. Monson. 1964. The Birds of Arizona. University of Arizona Press.
MCZ = Museum of Comparative Zoology, Harvard University