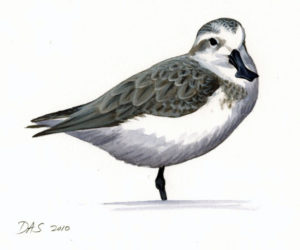 The painting shown here is currently available at auction (see box at right, revised on 24 Jan) with 100% of the proceeds going to support the efforts of the Bird Conservation Society of Thailand. Or you can make a donation through Audubon (see below). Funds will go to an information center at Pak Thale, Thailand, where visiting birders and local residents can learn about the importance of salt pans for wintering shorebirds.
The Bird Conservation Society of Thailand is seeking donations to set up an information booth at the main Spoon-billed Sandpiper wintering site at Pak Thale, Thailand. Phil Round says "The primary goal of this is to engender increased interest and concern at both the local and province level for the conservation of key shorebird habitats."
The site supports a small number of wintering Spoon-billed Sandpipers, but it is by far the most accessible place to see the species, and birders from around the world visit daily in the winter months. The area also supports globally-important concentrations of wintering Nordmann's Greenshank, and tremendous numbers of other shorebirds.
Thanks to Audubon, US citizens can make tax-deductible contributions to a Spoon-billed Sandpiper Conservation Fund.  To contribute to the Bird Center at Pak Thale, make a check out to "Audubon California", write "Bird Center at Pak Thale" in the memo line and send it to:

Audubon California
c/o Graham Chisholm
4225 Hollis Street
Emeryville, CA 94608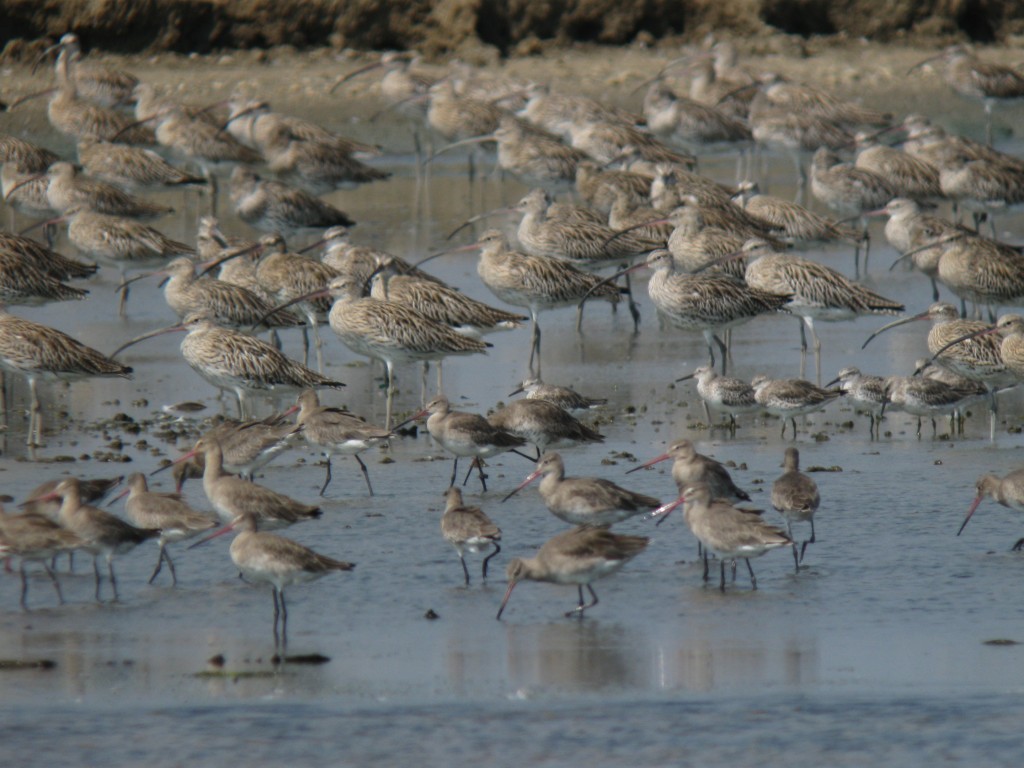 Here is the summary from the Bird Conservation Society of Thailand's proposal:
Summary: Ban Pak Thale, Ban Laem District, Phetchaburi Province, is the single most important wintering site for the critically endangered Spoon-billed Sandpiper in Thailand. It also supports a large number of other shorebirds including an internationally important flyway concentrations of the endangered Nordmann's Greenshank and the near-threatened Eurasian Curlew among > 35 shorebird species. These birds principally use salt-pans as roosting areas throughout daylight hours that, during the midwinter (November-January) period coincide with high tide. These roosting areas are unprotected and there is neither much community involvement in managing the site nor a high level of interest at the level of the province. With the engagement of the local subdistrict council (the Tambol Administrative Organzation of Ban Pak Thale) BCST will establish a manned bird information centre at the site that will serve as a focus for conservation and environmental awareness activities and additionally ensure that token income from local and international birdwatching tourists enters the community.