A few years ago I was alerted to a subtle difference in the head patterns of Downy and Hairy Woodpeckers when I read a short note by Mark Szantyr with a nod to Julian Hough in the journal The Connecticut Warbler. He pointed out that Downy Woodpecker has a larger white patch on the sides of the neck. In the years since then I've looked for this feature in the field and in photos, and it seems quite useful.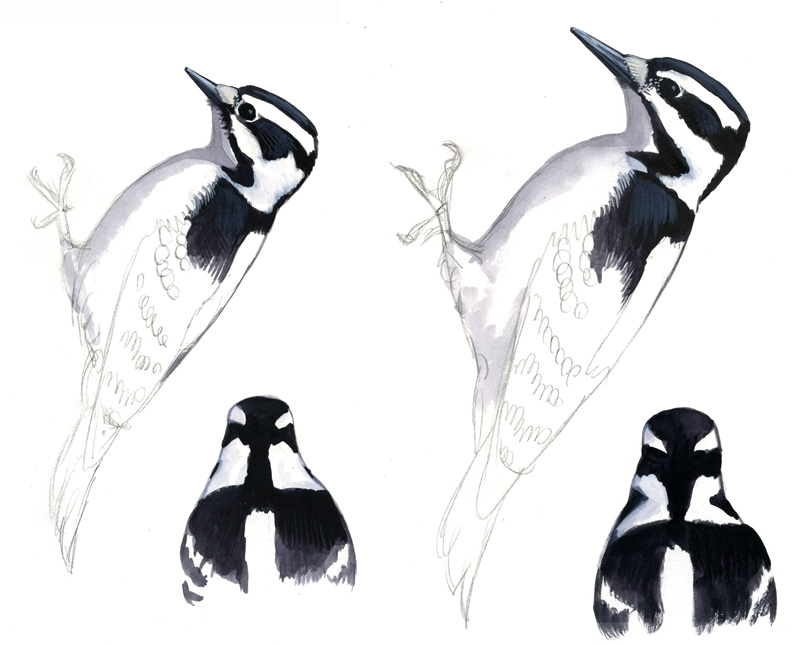 The shape of these white areas is extremely variable as the neck feathers move around depending on how the head is turned, but most of the time it is easy to see the difference, and watching a bird as it moves for a minute or so will reveal the pattern better than a few photos. The difference arises both because the black band behind the eye narrows sharply on Downy Woodpecker, and also because the black band along the lower jaw doesn't extend as far back. Viewed from behind both of these differences are apparent.
It's also important to point out that there is a lot of individual variation in the extent of black in the back of the head. Some individuals of both species have the white eyebrows meeting around the back of the head, while others don't (as shown here). The full white band may be more frequent in Downy than Hairy Woodpecker, but that needs confirmation.
There is also geographic variation, with both species showing more extensive black all over the head in populations in the Rocky Mountain and Pacific regions. The difference in neck pattern still persists though, even though the white areas on the head are reduced overall.
Check it out, and let me know if it works for you.