In a recent comment on the Art Gallery page, Rawlings asked about my use of scratchboard as a medium. I've done a lot of work in ink on scratchboard, and it's one of my favorite media for drawing. Most art supply stores sell scratchboard that is "pre-inked". The surface is all black and you use various scraping tools to reveal the white material underneath – sort of "drawing in negative". That can produce some really interesting effects, but for my work I use white scratchboard and apply the ink myself. ((The brand of white scratchboard I use is Essdee Scraperboard and can be purchased at many artist's supply stores)).
A close-up of the eye and surrounding areas in the drawing shows how various scratching techniques work. Around the eye I brushed on a solid wash of ink, then scratched in a few white lines to define the eye. At the base of the bill I used a pen to draw cross-hatched lines of black ink, then gave those more subtle shading by cross-hatching white lines across them at various angles with the scraping tools.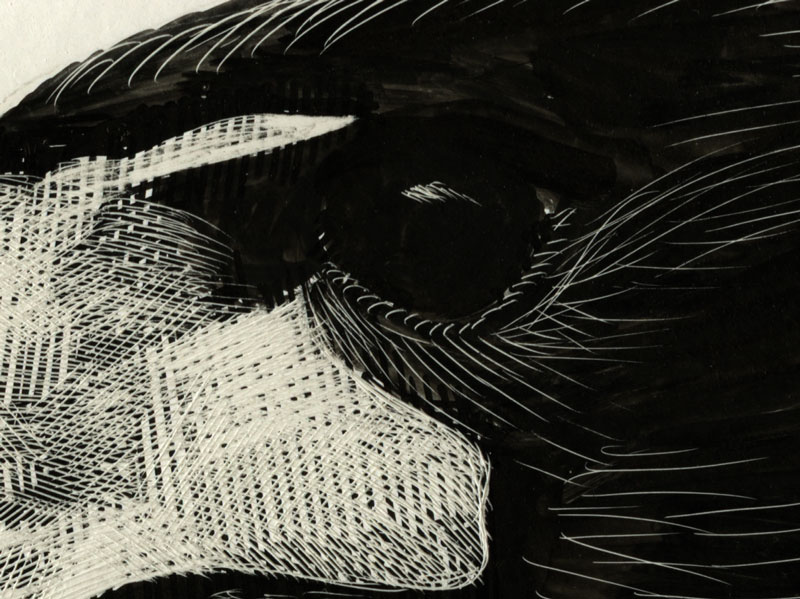 Ink can be applied to the board with either a brush or a pen, and I often use both on the same drawing: brush for large areas, pen for details. Once the ink is applied it can be scratched off with your scraping tools, and that's where a scratchboard drawing really differs from ink on paper! My technique is to apply the ink quickly with loose strokes, not worrying about being a little sloppy, because I know I can clean it up later. With the scraping tools I create white lines to add detail to the drawing. The fine white lines enable me to achieve a much greater range of "gray" tones than would be possible with ink and paper.
You can see more of my scratchboard drawings in the Art Gallery or in the book The Wind Masters.