One of my main goals in creating the Sibley Guide to Trees was to apply modern methods of bird study to tree identification. This meant looking at trees at a distance and trying to figure out what, if any, differences would allow me to distinguish species quickly and reliably in just a glance. I continue to learn more about this all the time, and a few days ago in New Hampshire I photographed these three trees.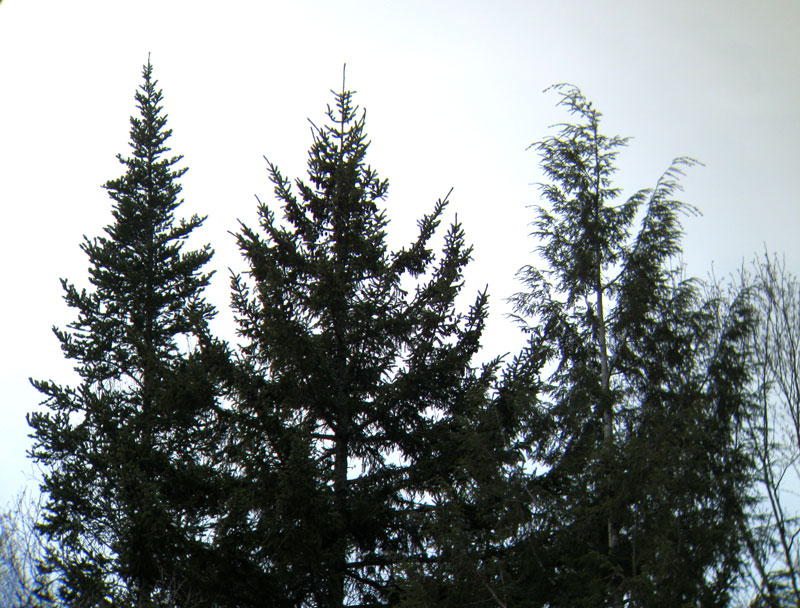 The rightmost tree of these three is the most distinctive, with very slender and delicate branches all drooping at the tips. This is an Eastern Hemlock.
The other two are more similar to each other, but close examination with an eye to the overall structure reveals that the tree on the far left is more compact, with shorter branches, straighter and more rigidly held, with less air showing through, and with a very narrow spire-like crown. This is a Balsam Fir, and the stiff and compact form is typical of most firs (Genus Abies).
The middle tree is a Red Spruce, with the more "relaxed" and open form typical of most spruces (Genus Picea).
Just as in bird identification, it can take a bit of practice to "tune" your perception so that these differences are more obvious to you, but with practice you can be identifying trees (at least to genus) at a glance.