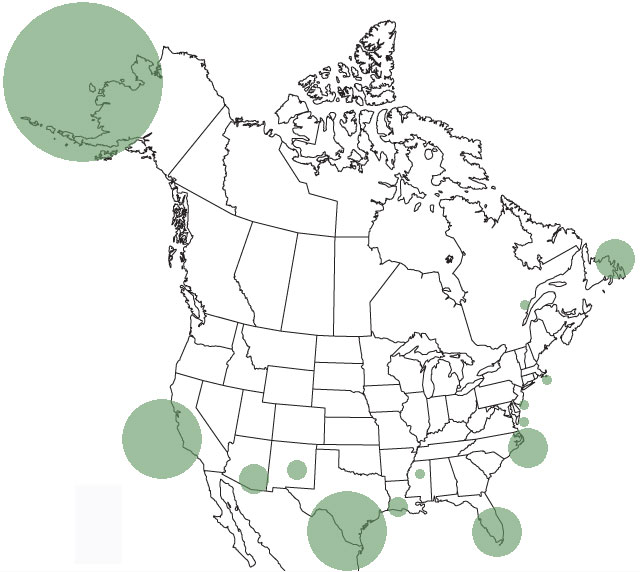 New birds are being added to the North American list at a steady rate, and there is no reason to think that the pace of discovery will slow. Some birds are expanding their ranges or pioneering new patterns of occurrence. Some species are being discovered in places like pelagic waters or the Bering Sea islands, which have been relatively poorly explored. And some are found just because more birders are in the field and are better-prepared than ever before. The map above shows a graphic representation of where new birds have been found since the mid-1980s, and a table below lists 57 species added to the list since 1985.
If you want to try to find a new bird for North America, the best place to look is apparently Alaska, followed shortly by California and Texas, and then Florida and Arizona. Pelagic birding has been one of the most productive "frontiers" over the last few decades. Note that 7 out of 8 new species added in California are seabirds (although only four of them were seen from boats well offshore), and in North Carolina all four recent additions are pelagic species seen from boats.
Most or all of these pelagic additions are probably just the result of more observers finally discovering long-standing patterns of occurrence, but we will never know for sure. Recent additions in Texas, Arizona, and Florida are more likely to be new patterns of occurrence – species pushing the boundaries of their range.
One interesting aspect of the map is how few species have added to the list outside of the states/provinces at the "corners" of the continent. New Mexico and Louisiana both make a relatively good showing with two records each, but beyond that there are only five scattered records from five different places.
I know that the table below is incomplete, especially on older records. Please let me know of any additions or corrections.
[table "20" not found /]