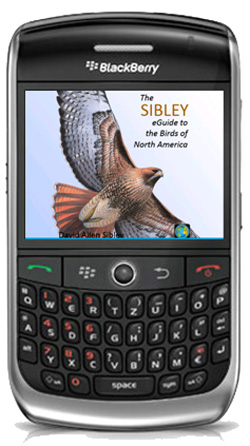 At last….  The Sibley eGuide is now available for Blackberry!
Check it out at the Blackberry App Store
Now Blackberry owners can enjoy having the entire content of the acclaimed Sibley Guide to Birds on a device that fits in your pocket – all 810 species, over 6600 paintings, over 700 range maps, and detailed text – plus over 2300 audio recordings and the ability to filter species by size, shape, and color.
The interface of this app has been designed with birders in mind, to give quick and easy access to the information you need in the field. Find any species in seconds by typing a few letters of its name, and see all of the critical information on the screen (and no need to access the internet after the content is loaded on your phone!). So you can quickly check a plumage feature, field mark, sound, or range map, and get back to actually looking at birds. The result is a complete and authoritative guide to the identification of North American birds, in a convenient and easy-to-use format that fits in the palm of your hand.
Note: The Blackberry app includes all of the content and virtually all of the functionality described for the Sibley eGuide, but currently does not include either the regional search data or the compare feature found in the iPhone and Android apps. The regional data is planned to be added in a free update in late May 2011.
More info on the eGuide for iPhone, Android, and Blackberry