Dark morph (Cory's) Least Bittern
Note: I have never personally seen a living Cory's Least Bittern. In fact, only six or so have been seen during my lifetime. Most of what follows is based on a very thorough 1996 research paper by Ron Pittaway and Peter Burke (see References below). The illustration shown below is correct, based on specimens and video. The painting included in the Sibley Guide to Birds on page 58 is incorrect; it should be darker and more uniform, without white on the back, and with blackish bill. In addition, the text below the image in early printings of the guide is also incorrect, and should read: Extremely rare, reported only a few times since the 1950s.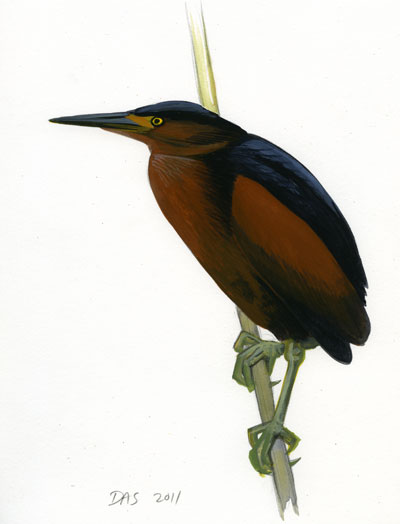 The rare and enigmatic Cory's Least Bittern was first collected in 1885 in Florida and described as a new species. Questions about its status as a species arose soon after, but in the 1890s it attained quite celebrated status as a very rare bird and was eagerly sought by collectors. In 1923 the AOU Checklist dropped it from the list of accepted species, and the combination of being demoted to color morph, and going from rare to essentially nonexistent over the next few decades, meant that by the 1970s few birders were even aware of its existence.
It is strikingly different from typical Least Bittern. The plumage is entirely dark, with most of the areas that are normally pale yellowish-buff being dark reddish-brown, and parts that are normally darker brown being black. Some parts that are normally pale buff (e.g. the undertail coverts) also usually become black on Cory's. White marks at the shoulders and white lines on the back shown by typical males are absent on Cory's.
Many Cory's show patches of unpigmented white feathers, most often on the belly and legs, and may also show melanistic patches of black feathers elsewhere.
The bill of Cory's is blackish, unlike the pale yellow-green of typical birds. The legs also appear darker olive-green based on the only available video (link below).
Adult males, adult females, and juveniles all show similarly dark plumage. Note that juvenile typical Least Bitterns are somewhat darker overall than adults, and can be confused with Cory's by the over-eager, but a true Cory's is much darker still. Downy young are also much darker in Cory's, and even the eggs of Cory's are reportedly darker.
No intermediate specimens are known, and O. E. Baynard (in Bent 1926) reported that dark birds mated with each other and not in mixed pairs, although the form has always been so rare the sample size for this claim must have been very small. No differences in structure or behavior have ever been reported.
A total of 38 specimens are known, with 22 of those from Ontario, mostly near Toronto, and mostly before 1900. Those marshes have since been destroyed, but apparently the demand for specimens of this rare bird was so high in the late 1800s that the population was essentially wiped out even before the marshes were destroyed.
Other specimens come from Wisconsin, Michigan, Illinois, Ohio, New York, Massachusetts, Florida, and Brazil.
There have been very few records since 1900 and only six records since the 1950s:
May 1973, Hanlan's Point, Toronto Islands, ON, sight record, D Sutherland and N. Godfrey (in Pittaway and Burke, 1996)
Jul 1981, Prince Edward County, ON, C. Campbell and D. Perrin, sight record (in Pittaway and Burke, 1996)
15 Aug 2001, Red Slough, OK, sight record, D. Arbour, (listserv posting)
Early April 2003, St Marks National Wildlife Refuge, FL, sight record, J. Brunner, (pers. comm.)
Apr 2010, Pantanal, Brazil, video; the only known images of a living Cory's Least Bittern! http://www.youtube.com/user/baco1970#p/search/1/-DraxAu98Vw
14 May 2012,  Red Slough, OK, male, sight record, D. Arbour, (listserv posting) [And in that discussion another observer recalled a sighting from Oklahoma City "maybe 30-40 years ago" by John Newell]
It is interesting that records are concentrated around the Great Lakes, where the species is now very rare, and Florida. The few recent records are more widely scattered, but clearly this very rare color morph is still out there and should be watched for.
References
Pittaway, R. and P. Burke. 1996. Recognizable Forms: Cory's Least Bittern. Ontario Birds 14: 26-42.   http://www.jeaniron.ca/2010/corysleastbitternRF.pdf – comprehensive info about nomenclature, history, plumages, etc. also see photos of museum specimens at http://www.jeaniron.ca/2011/corys.htm
Teixera, D. M. and H. M. F. Alvarenga. 1985. The First Recorded Cory's Bittern (lxobrychus "neoxenus") from South America. Auk 102: 413-414. pdf here: http://elibrary.unm.edu/sora/Auk/v102n02/p0413-p0413.pdf – details of the first South American record 13 May 1967 near Sao Paulo, Brazil.
Notes
Thanks to Ron Pittaway for all of his work on this bird, and Gerald Oreel for alerting me to references.