There are four named subspecies of Scaled Quail, three in the US and one in Mexico. The subspecies found in southern Texas is distinctly different from the other three, at least in adult male plumage, and makes the list of field identifiable subspecies. Here's a quick summary of the differences, based on study of specimens at Harvard's MCZ, and numerous photos. Some field testing is needed, and figuring out where (and how much) the subspecies intergrade is important. No difference in voice has ever been mentioned, but that's worth checking out.
Basically, any bird with a chestnut belly is safely identified as the south Texas subspecies castanogastris. Birds without a chestnut belly could be another subspecies, or females or immatures of castanogastris, and you'll have to look at other details to identify them. Vagrants are unlikely to occur, so range will be a reliable clue to identification, but in order to work out the range we'll have to identify a lot of birds…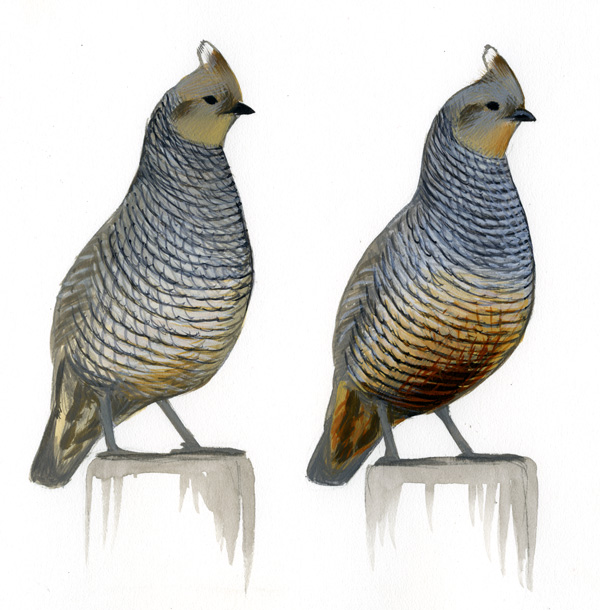 Males differ very slightly in overall color and darkness, probably not enough to be useful in the field except in direct comparison (which is unlikely to happen in the wild). Identification will have to be based on the color of the belly and undertail coverts.
Males: southern Texas vs Arizona-New Mexico
center of lower belly with dark chestnut or maroon-brown patch, may be small or irregular (vs center of belly pale buff)
belly surrounding chestnut patch tinged strongly orange-buff, fading to cream-buff outwards (vs slightly orange-buff in center of belly where TX birds have chestnut, fading to off-white outwards)
undertail coverts with dark brownish markings, washed orange-brown to rust (vs paler gray-brown markings with cream-colored edges)
neck and breast darker gray, forming distinct gray breastband
crown and cheeks grayer and darker (vs ashy brown)
slightly darker overall
slightly darker and more brownish on back
tail darker gray above
throat slightly darker and more orange-brown
Females differ very slightly in overall color similar to male but less obvious, and south Texas females don't really show any trace of the chestnut belly patch, so the best field mark for males is not useful on females. They do seem to show a difference in throat pattern.
Females: southern Texas vs Arizona-New Mexico
throat distinctly streaked (vs smooth pale buff-gray)
belly and under tail coverts slightly more orange toned
breast and neck very slightly darker
upperparts darker and warmer brown, especiaily on scapulars and upper tail coverts