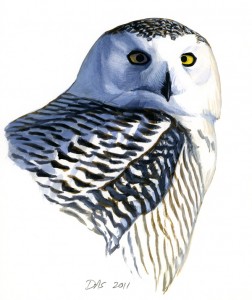 Snowy Owls are making news this winter, as in the New York Times today (link)
The conditions setting up this invasion started at least a year ago. Last summer, burgeoning lemming populations in the arctic provided abundant food for nesting owls, which were able to feed and fledge five or even seven young per nest instead of the more normal zero to two. Once this population explosion of young owls got out hunting on their own in fall 2011, the demand for lemmings outstripped the supply, and when winter set in food got even scarcer.
Dominant adult birds set up feeding territories and defend them against all other owls (including their own offspring). They have to protect their own food supply. As food got scarcer last fall the adults defended ever-larger territories and the lower-ranking young birds were forced to forage in less productive areas, or sneak around and try to poach on adult territories.
A shortage of food has been shown to stimulate a bird to start depositing fat and to increase their migratory restlessness, and in species with a pecking order or social hierarchy the low-ranking birds are the first ones to feel the food shortage (Terrill 1987). Therefore the low-ranking owls that were having a hard time getting enough food found their bodies automatically preparing and urging them to "hit the road".
And they moved south; some are near starvation and some better off. Some will survive and return to the arctic in the spring, and if all goes well they will never have to come this far south again in their lifetime.
References
Terrill SB. 1987. Social dominance and migratory restlessness in the dark-eyed junco (Junco hyemalis). Behav Ecol Sociobiol 21:1–11  Link – this research was on captive Dark-eyed Juncos, but let's assume Snowy Owls are similar