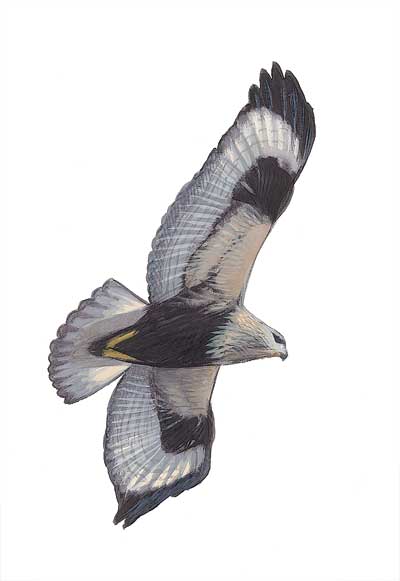 The other morning I was passing a farm field near my house. It's a place where I often go birding and as I glanced around I was thinking "maybe there could be a Rough-legged Hawk today". But I've never seen a Rough-legged Hawk here in 12 years in the neighborhood, and all I could see was one of the resident Red-tails. And I realized that if any Rough-legged Hawk was passing by and paused to hunt over this field, the resident pair of Red-tailed Hawks would probably chase it away immediately.
Anyone who has been birding in the northeast for more than a decade has noticed the increase in Red-tailed Hawks. They have adapted to the suburbs and increased in numbers steadily for at least 50 years, becoming a widespread and omnipresent part of the avifauna.
These Red-tails are mostly resident. As long as they have enough food, pairs of adults remain on their territories and aggressively defend them year-round. In the same fifty year period the number of Rough-legged Hawks found on Christmas Counts in Massachusetts has declined dramatically.

A similar pattern shows in other Northeastern states, but in Manitoba and nearby states and provinces, where Red-tailed Hawks are not resident, the number of Rough-leggeds found on Christmas Counts has increased over the last fifty years.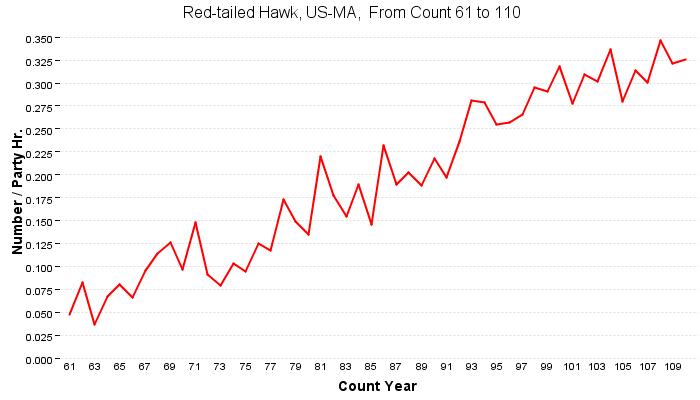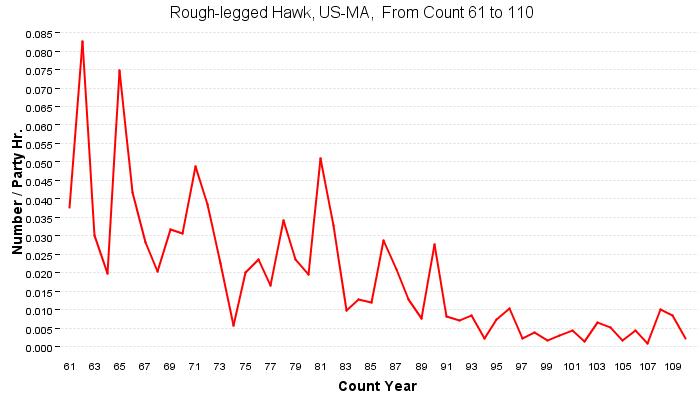 A similar sort of displacement was the leading hypothesis for the decline of Purple Finch in the northeast. They were being "outcompeted" by introduced House Finches, so the story went, but I don't think there's any evidence to support that. The increase of very aggressive Mute Swans in the northeast may be leading to declines of other nesting waterfowl. There are presumably other examples of this kind of interaction between species.
The number of Rough-legged Hawks wintering in Massachusetts was always small, so changes here are probably not significant to the species as a whole, and I'm not suggesting that there is any cause for alarm or action. It's possible that the decline of Rough-leggeds here has more to do with the well-documented loss of open farmland and increasing forest cover in the last few decades. I'm just curious.
Have you noticed interactions between Red-tailed Hawks and wintering Rough-legged in your area? Do Rough-legged Hawks and resident Red-tails coexist anywhere? Is there any place Rough-legged Hawks have declined where Red-tails are not resident?
Graphs are from the Audubon Christmas Bird Count website at http://birds.audubon.org/historical-results