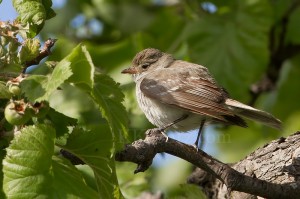 The still-unidentified Elaenia, found by Ethan and Aaron Gyllenhaal in Illinois, has provided one of the most exciting and interesting bird identification challenges in recent years. It is either a first North American record of Small-billed Elaenia, or second North American record of White-crested (or third if an earlier record from Florida was White-crested).
Both species nest in southern South America and spend the austral winter (our summer) in northern South America. Like Fork-tailed Flycatcher, occasional misoriented migrants can show up in North America, and identifying Elaenias here offers new challenges. It's one thing to identify the species where they are common, in familiar surroundings, and usually calling. Identifying a silent Elaenia in Chicago, where neither the bird nor the observer has any familiar point of reference, is another matter.
The Chicago Elaenia never called (which would have solved the mystery easily). As the days went by there was increasing interest in trying to catch the bird, primarily to get a feather for DNA testing. A firm diagnosis would have been nice, but the discussion was so good that I voted against trying to get a DNA sample.
That's an easy position for me to take, being a thousand miles away with no investment in the outcome of the ID discussion. But the idea of testing a DNA sample felt a little bit like cheating. It was as if we were all working on solving a difficult puzzle, and someone suggested turning to page 57 to peek at the answer.
I'm not against the use of technology in birding. DNA testing is an incredibly powerful tool and will undoubtedly lead to many more surprising discoveries (like the Illinois Rufous Hummingbird last winter). I'm just suggesting that we stand to learn more from the intellectual curiosity that will now be focused on identifying the photos of the Chicago Elaenia, than we would by just running a test and knowing the answer.
In the words of Isaac Asimov:
The most exciting phrase to hear in science, the one that heralds the most discoveries, is not "Eureka!" (I found it!) but "That's funny…"
Links
Discussion of the Chicago Elaenia, 16 pages and growing on the Illinois Birders Forum: http://www.ilbirds.com/index.php?topic=50480.0
More of Ken Koontz's photos: http://kkoontz.com/p626194979
Discussion of the Chicago hummingbird, Broad-tailed or hybrid then confirmed by DNA as Rufous: http://www.ilbirds.com/index.php?topic=49536