Auction closed with a winning bid of $1660! Thanks to everyone for your support. And you can still make a donation at the ABC website here.
Like so many other birders, I've had the great pleasure of sitting and birding in the Paton's backyard sanctuary in Patagonia, Arizona, where Violet-crowned Hummingbird is one of the specialties. I did this gouache painting of a Violet-crowned Hummingbird remembering my visits there, and 100% of the proceeds from the sale of this painting will be donated to help permanently preserve the property as a bird sanctuary and education center.
I'm donating a painting because I support this cause, and you can make a donation even if you're not buying the painting. Please be generous. You can read more about the project, and make donations, at this link http://www.abcbirds.org/paton/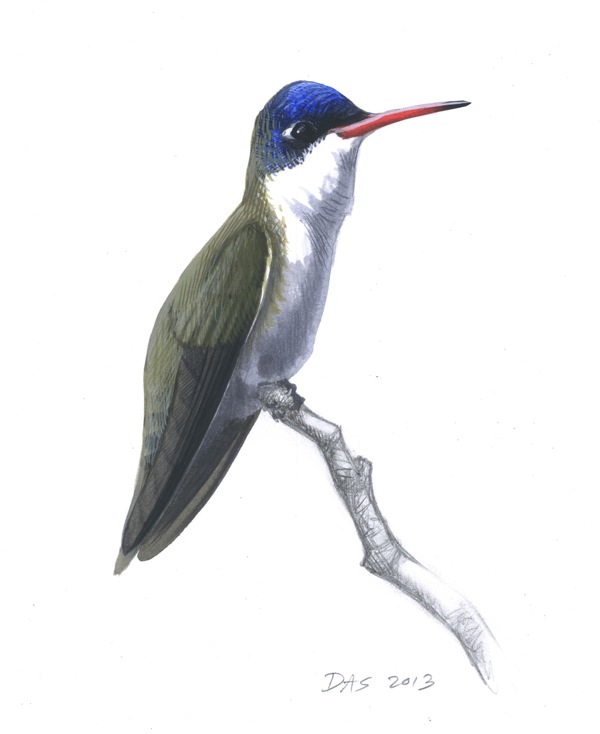 About the artwork
This is an original painting created with gouache on bristol board. These are archival materials and with proper care the painting should remain essentially unchanged for a hundred years or more.
The original is 8.5″ wide by 10″ tall.
Info about auctions in general
This auction uses "proxy" bidding or automatic bidding, the same method used on eBay. The system allows you, as a bidder, to specify a hypothetical maximum price that you would be willing to pay, and it will automatically respond to other bids for you up to your maximum. If a previous bidder has entered a maximum bid, then YOUR bid will trigger the system to place an automatic bid in THEIR name that is slightly higher than yours.
If you want to know more you can read the explanation on eBay here. And if you have any questions or concerns please contact me.
Payment
The winner of the auction will receive an email notification, with a link to a Paypal page to make payment. A Paypal account is not required to use the service, and all major credit cards are accepted. The winning bidder can pay for the auction by clicking on the Paypal link in that email. I will transfer the full payment in your name to the Paton's Birder Haven fundraising campaign.
If you would like to make other arrangements for payment, or have other questions, you can contact me.
Shipping
The cost of shipping to the continental US via USPS ground is included in the sale price. Overnight delivery or shipping to other countries is available at additional cost. The winning bidder can contact me for details and pay separately for these services if needed.
Satisfaction Guarantee
As with all of my artwork, if you feel the piece you receive is unsatisfactory for any reason, just contact me and return it in its original condition for a full refund.