American Robin
Turdus migratorius
Subspecies
Differences are so slight and variable that no subspecies are reliably identifiable outside of their normal range. Bold indicates groups mentioned or illustrated in the Sibley Guide
Eastern T. m. migratorius group
T. m. migratorius – Alaska, Canada, northeast states
T. m. achrusterus – southeast
Atlantic Canada T. m. nigrideus
Western T. m. propinquus group
T. m. propinquus – Pacific Northwest
T. m. caurinus – Interior West
Variation is slight and clinal, involving overall plumage saturation, prominence of tail spots, and very small differences in size. Birds of Interior west average palest, birds of Atlantic Canada (and Appalachians) average darkest, with Pacific Northwest also quite dark. Western birds in general lack obvious white tail corners (especially closer to the Pacific coast), but many eastern birds have very small tail spots.
So-called "Black-backed" Robins T. m. nigrideus (males have black neck and back, reduced white on head, and are more richly colored overall) are most numerous among the breeding populations of far eastern Canada, but birds just as dark can be found commonly in the Appalachian region (Mengel, 1965; pers. obs.), and less often in other adjacent regions. I have identified scattered individuals in the northeast and up to three together among the large winter robin flocks at Cape May, NJ.
While some are strikingly colored and at first I was excited about searching for this "subspecies", over time I realized that the black back is simply one indication of an overall darkness. The birds with black backs also have reduced white on the throat streaking and facial markings, unusually dark rufous underparts, and darker gray upperside in general.
There is a complete range of variation from pale to dark, so one is forced to make subjective decisions about which birds are dark enough to be "black-backed". Then I noticed considerable variation among the local breeding population in the northeast states, and began to wonder if the apparent "winter visitor" status of black-backed birds was simply because that was the season when I was able to study hundreds of robins.
Mengel (1965) has published some actual research. He writes about the Labrador-Newfoundland population: "it is my present opinion that these birds represent the extreme expression of a general tendency to rich coloration in the extreme north; one found also, incidentally, in an appreciable percentage of Appalachian birds". Then lists three specimens from Kentucky, including one taken on Sep 24, before migrants would be expected, and continues "Even if nigrideus proves valid, I have seen so many dark-backed specimens taken in the eastern United States in the breeding season that I think it best not to include the race in this [Kentucky] list on the basis of three specimens".
I concur, and think that the "Black-backed" robin is best considered a variant that predominates in the northeast, not a subspecies.
Western birds average paler, and most have smaller white spots (or none) at the tail corners, but both of these features are variable and can be found anywhere in the east as well. Similarly, relatively dark birds with obvious white tail spots can be seen in the west. So there is simply no way to be sure whether an odd-looking robin is from another region, or just a variant of the local population.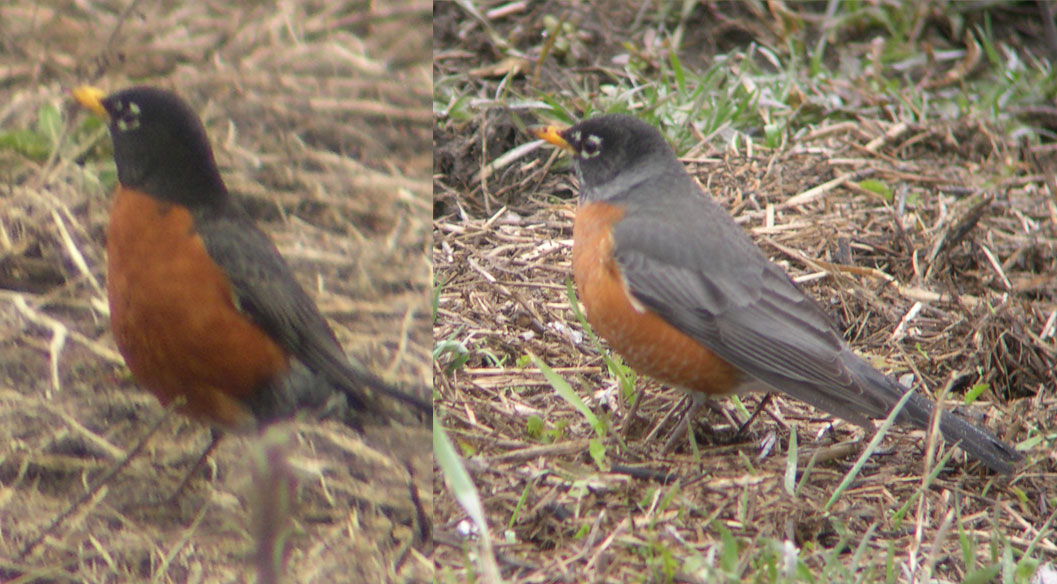 References
Mengel, R. M. 1965. The Birds of Kentucky. AOU Monograph 3