Albino and partial albino birds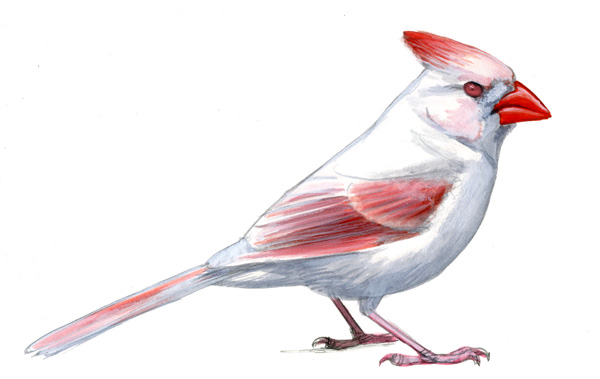 The presence of white feathers on a normally dark bird is the most frequently seen color abnormality. Every birder can expect to encounter white or partly-white birds with some regularity, and the more striking examples will stand out even to novices.
All black and brown coloration in birds comes from melanin (of two types). Birds create melanin pigments using an enzyme, and this melanin is deposited in the growing feathers by color cells. At any stage and for many different reasons this complex process can break down, leading to a variety of conditions:
an inability to produce melanin and complete absence of melanin throughout
an inability to deposit melanin in the feathers and an absence of melanin in some or all feathers
a lack of one type of melanin (many possible causes), leading to an absence of that type while retaining the other
a failure to fully oxidize the melanin leading to a change in color from blackish to brownish
a partial loss of one or both types of melanin (many possible causes), and therefore a lower concentration of melanin in the feathers
Through careful study birders can sometimes deduce the cause of the abnormality, but different conditions can produce nearly identical results. Conversely, the same condition in different species of birds can produce very different results.
Terminology
There has been some recent discussion about the proper terminology for these conditions (Buckley 1982, Davis 2007, van Grouw 2006), with competing proposals from aviculturists, ornithologists, and birders. One of the reasons for the disarray is the lack of a simple "umbrella" term for all conditions involving the reduction of melanin. Birders cannot be expected to analyze each odd bird and choose the proper term to apply to that particular form of melanin reduction, and this leads to misuse of technical terms. I propose that the term "albino" is already in popular use and has become the default name for the category. Birders should continue to use the terms "albino" and "partial albino" to refer to any bird with abnormally white or pale feathers. When you look at a swirling flock of blackbirds and see one with a white tail, or one that is pale tan all over, it is OK to say "partial albino, flying left!"
A true albino is a very specific genetic mutation, rarely seen in the wild, and can easily be referred to by calling it a "full", "true" or "complete" albino. The other terms mentioned below (leucistic, dilute, etc.), and others, can be used for specific cases, but consider all of the possibilities and be wary of false precision.
The term leucistic has a confused history. In the introductions of the Sibley Guides I said the term leucistic is synonymous with dilute plumage. That usage was fairly common among birders at the time, and I was unaware that it contradicted several scholarly publications (e.g. Buckley 1982, van Grouw 2006) which define leucistic as the total lack of melanin from some or all feathers (what I called partial albino in the guides). It does make sense to distinguish birds that are unable to deposit melanin (my partial albino, their leucistic) from birds that are able to deposit melanin but only in low concentrations (my leucistic, their dilute). Below I've used the term leucistic (not partial albino) for birds which cannot deposit melanin, which helps to distinguish these birds from the narrowly-defined true albino, and allows use of the term "partial albino" as a general category for any bird showing any form of reduced melanin. These terms should be corrected in the introduction of the Sibley Guides.
The True Albino
A full or true albino (see illustration at the top of this page) is a very specific mutation with a well known genetic cause similar across all vertebrates. These birds are unable to produce melanin at all because of the absence of the required enzyme tyrosinase. All of the plumage is white and the skin is unpigmented. Even the eye is unpigmented, and appears pink or red as we see the blood vessels in the retina. Melanin serves some critical functions in vision and in protecting the eye from UV radiation, so full albino birds can't see well and for that and other reasons don't survive long in the wild. Adult full albino birds are essentially never seen in the wild. Note that the inability to produce melanin does not affect the red carotenoid pigments, so the red color appears more or less as usual on this bird's feathers and bill. An albino bird is not necessarily all white!
The normal Cardinal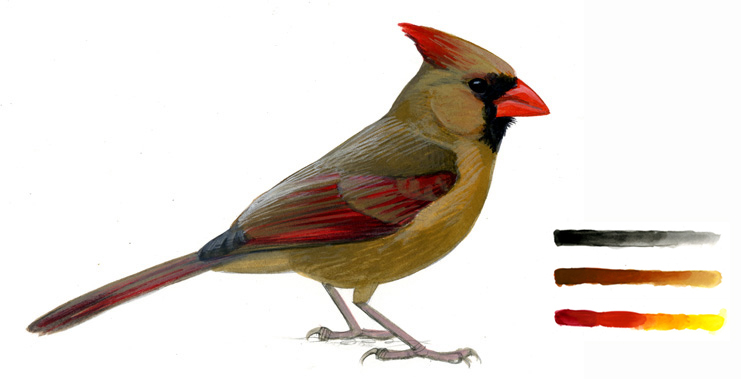 Fully leucistic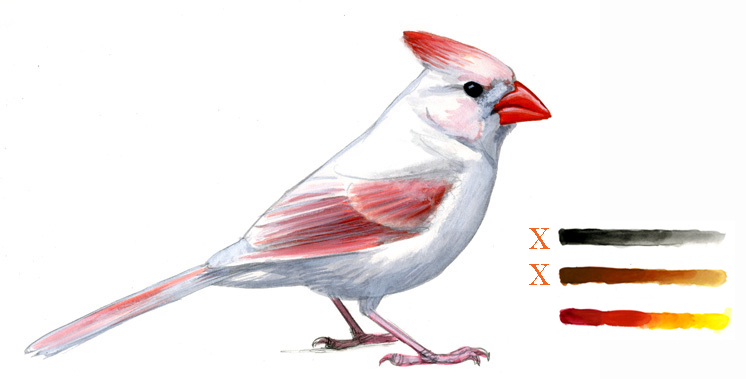 These birds can produce melanin, so the eye appears black, but something prevents them from depositing melanin in the growing feathers. The red carotenoid pigment is unaffected so the feathers are red in all the normal places for a female cardinal. Note that in any of the numerous species that lack carotenoid pigments (e.g. Song Sparrow, Herring Gull, Blue Jay, American Robin, etc) exactly the same underlying condition – a total lack of melanin in the feathers – would result in completely white plumage.
Partially leucistic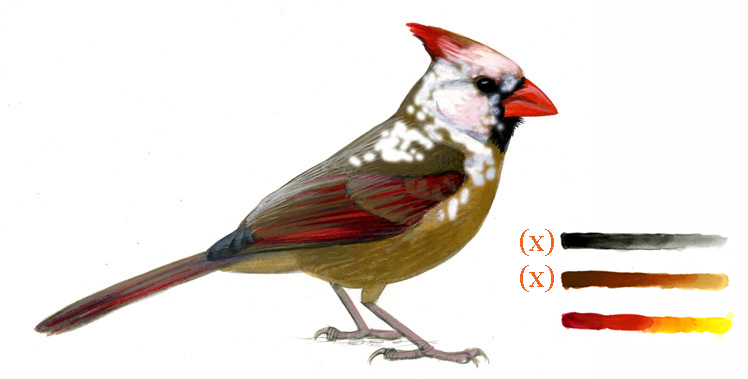 This is probably the most commonly seen plumage abnormality in wild birds. This mutation is extremely variable in appearance, as birds can have just a few white feathers scattered on any part of the body, or whole sections of the body white, or the entire body white (fully leucistic, above). The white feathers are often grouped in feather tracts, so that most of the head is white (as shown here), or some of the wing coverts are white, or most of the tail, etc.
Lacking eumelanin (Non-eumelanic)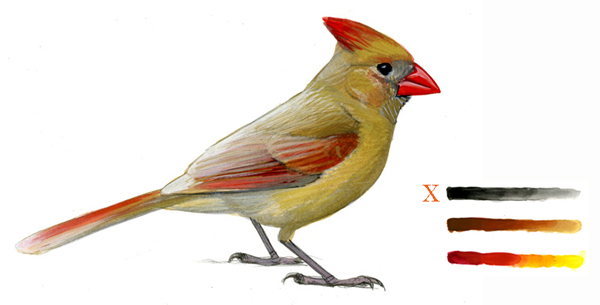 The most obvious differences from the normal bird include the lack of the blackish face and the greatly reduced pigment in wings and tail leading to very pale wingtips and tail tip. This condition is rare, and can be very similar to some dilute plumage conditions. Note that in a species that lacks the chestnut/buff phaeomelanin pigment (crows, many gulls, etc) this same condition – a lack of eumelanin – will result in completely white plumage.
Lacking phaeomelanin (Non-phaeomelanic)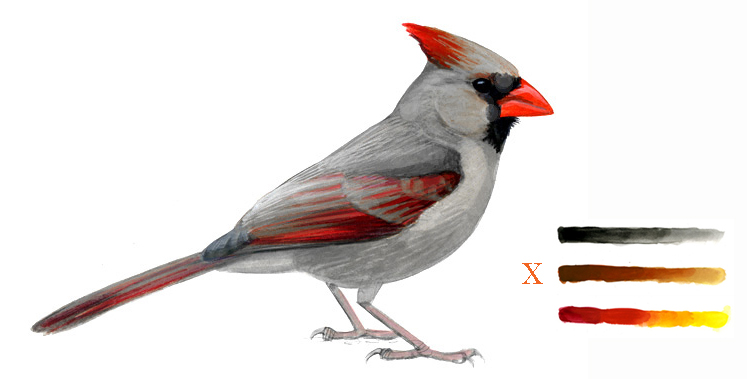 It retains the normal dark gray eumelanin in the wing and tail color, and the dark face, but the body feathers appear quite abnormal. They lack all of the warm buff tones of phaeomelanin, leaving only pale and plain neutral gray. This condition is rare. There is no bird known that has only phaeomelanin pigment, it is always found with eumelanin, so this condition will never result in an all white bird.
Dilute plumage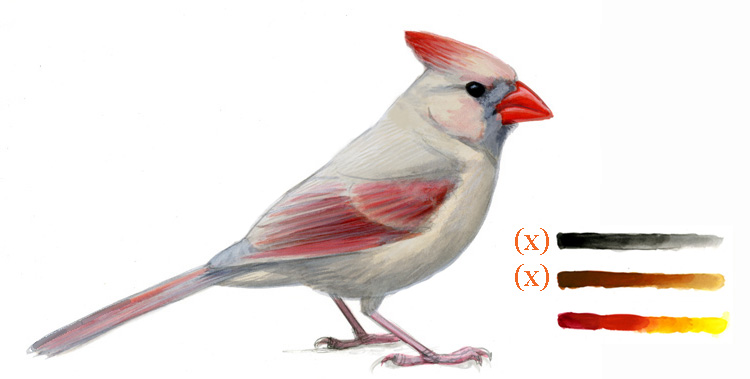 Melanin of one or both types is produced and deposited in the feathers, but at low concentrations. The resulting pale gray-brown pigment is very susceptible to fading, and these individuals quickly become bleached by the sun. In dilute birds the relative concentrations of melanin on different feathers often remain the same as on normal birds, but all are much paler so the bird shows a faint "ghost" of the normal pattern. This is particularly striking on strongly-patterned species such as raptors or immature gulls, where the dilute bird will show the typical pattern (e.g. tail bands, etc.) but all in a faint pale brown. Many dilute birds have about 50% of the normal concentration of melanin. The palest dilute individuals can be nearly indistinguishable from fully leucistic birds, especially when bleached and worn.
Not illustrated here:
a mutation that leads to incomplete oxidation of the blackish eumelanin, so it is deposited in the feathers as a slightly paler brown color and is very quick to fade. This is obvious when it occurs in species like crows, but far less obvious on a Cardinal.
a condition known as grizzle, in which feathers are not uniform but have varying concentrations of melanin, partially dark and partially pale. ((Note that grizzle is not to be confused with the pale-based flight feathers seen in some juvenile crows and other species. That is apparently a temporary condition caused by environmental issues (presumably health and diet). It is not a mutation and the same bird will grow normally-pigmented feathers in its next molt.))
an inherited condition known as acromelanism, in which feathers grown on warmer parts of the body (e.g. the chest and belly) are less pigmented than feathers grown on colder parts (e.g the top of the head).
And there are other variations, with other causes, too numerous to be mentioned in a brief overview such as this.
Conclusion
The coloration of birds is simple in some ways, and marvelously complex in other ways. Birds with abnormal plumage can be strikingly beautiful or just unusual-looking, and they can provide a fascinating deductive challenge as we try to figure out just what is going on.
References
Buckley, P. A. 1982. Chapter 4: Avian Genetics. in Petrak, Margaret L. (Ed) 1982. Diseases of Cage and Aviary Birds, 2nd edition. Lea & Febiger, ISBN 8121-0187-1
Davis, J. N. 2007. Color abnormalities in birds: A proposed nomenclature for birders. Birding 39:36–46.
van Grouw, H. 2006. Not every white bird is an albino: sense and nonsense about colour aberrations in birds. Dutch Birding 28: 79-89.
Notes