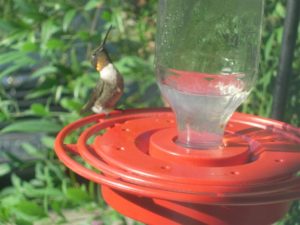 Update 16 August: a new post Progress on the orange-throated hummingbird mystery.
Update 14 Aug 2011: A follow-up to this post is now available, tempering some of these points and adding more questions – Orange-throated Hummingbirds: more questions.
Every year in August and September, a few perplexed observers in eastern North America send out questions about an odd hummingbird they have seen. The description is always the same: "similar to the common male Ruby-throated Hummingbird, but with an orange throat."
The species involved – Ruby-throated Hummingbird – is quickly and easily confirmed, and if these birds generate any further discussion, it is simply to suggest that they are odd males, with worn or otherwise degraded throat feathers. Well, they are male Ruby-throated Hummingbirds, but I believe that the rest of that speculation is wrong. They are apparently typical males in non-breeding plumage! (Update: the orange-throated males seen in late summer apparently are worn – see my later post Progress on the Orange-throated hummingbird mystery – but the orange-throated specimens from the wintering grounds probably represent a nonbreeding plumage).
Hummingbird molt
Ruby-throated Hummingbird was thought to molt all of its feathers just once each year, in a complete molt on the wintering grounds that ended with the rapid replacement of all throat feathers just before the birds migrated north (Pyle, 1997). Then a model study by Donna Dittmann and Steve Cardiff (2009) used thousands of photographs of hummingbirds visiting their Louisiana backyard feeders to document a previously unknown summer molt in Ruby-throated Hummingbird. Wing and tail feathers are molted only once each year (on the wintering grounds) but the head and body feathers are replaced twice each year, once in the summer, and again in late winter.
When I read about this summer molt and the "extra" replacement of throat feathers, I wondered if there could be a connection to the odd orange-throated males that are seen each fall. If Ruby-throated Hummingbirds were only growing iridescent throat feathers once each year, just before migrating north in the spring, it's hard to explain a different throat color in the fall. But, if these hummingbirds are growing a set of feathers that will only be worn in the non-breeding season, it makes sense that there would be less selection for brilliant red throats at that season. Molting the throat feathers twice each year essentially allows the male hummingbirds to "go casual" for the winter and grow feathers that are less bright, without paying any social penalty for it. Could the orange throat be a recognizable winter plumage shown by some or all males?
The nonbreeding plumage of Ruby-throated Hummingbird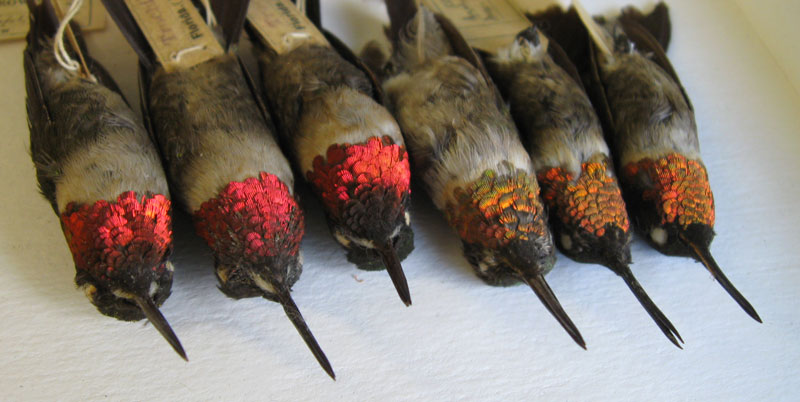 A survey of specimens at Harvard's Museum of Comparative Zoology confirms that all of the winter specimens there have a significantly different throat color than specimens collected in spring and early summer. The photo above shows three spring Ruby-throated Hummingbirds in "breeding color", with three winter birds in "nonbreeding color".
The color difference can be tricky to see. Like other iridescent colors it changes slightly as the angle of view changes. For the photo shown here I chose the angle that showed the most dramatic color difference, but from some other angles the colors appeared much more similar. Nevertheless, the color difference is consistent and definite. No winter males show the deep red color of the summer birds, and only a couple of summer birds approach the more orange throat color of the winter birds. ((The few summer birds showing orange throats may be one-year-olds in their first breeding plumage, or perhaps adult males that were less healthy or had lower hormone levels when their feathers were growing. Immature males in their first fall and winter also show this orange color on the few iridescent feathers they have acquired on their throats.))
More questions than answers
Currently the biggest question is this: Is the color difference in the orange throat really the result of molt, or is there some other explanation? ((Donna Dittmann (email) reports that during her study she did not see a color difference between old and new feathers on molting males in Louisiana. Furthermore, she says that comparing specimens of fresh fall males with worn summer males in the museum at LSU shows no difference in throat color, and that the only orange-throated specimens at LSU were collected in winter in Mexico (just like the orange-throated MCZ specimens). What does this mean? I don't know. The throat color of the MCZ winter specimens (all from Mexico and Central America) shows a clear and consistent difference from the spring specimens. If it's true that this difference is not apparent in Louisiana immediately after molting, then something must change in the next month or two as the birds travel to their wintering grounds. They can't go through another molt, but maybe the existing feathers change somehow. Any hypothesis would also need to explain the occasional orange-throated birds that are noticed all across the eastern US in early fall.  It remains a mystery.))
And there are a lot of other questions:
Do any other North American hummingbirds have summer molts? If so, do they also have a recognizable non-breeding plumage?
Besides throat color, are there other parts of the body plumage that show differences between summer and winter plumages?
Do females show any difference between summer and winter plumages?
What is the evolutionary origin (and correct terminology) for these molts? ((For those who really like molt studies: see Dittmann and Cardiff (2009), and Howell (2010) for some discussion of molt terminology, and the debate is ongoing. If the wing and tail molt in winter is connected with the complete body molt in late winter, that must be the annual complete Prebasic molt. In that case this newly-discovered summer molt of body feathers must be the Prealternate. But if the summer molt of body feathers is connected to the winter molt of wing and tail feathers (with a pause for fall migration and restart on the wintering grounds), then that whole process would be the Prebasic molt, and the body molt in late winter is a separate event unconnected to the replacement of wing and tail feathers, and would be the Prealternate. This latter scenario is a better match for the "standard" molt cycles of birds, but hummingbirds are an unusual group, so there's no reason to assume that they comply with any standards of molt. The answer to those questions can probably best be found by studying the exact timing and extent of molts on the wintering grounds.))
Do Ruby-throated Hummingbirds undergo this summer molt wherever they are in eastern North America, or do they migrate to favored molting areas?
Do all of them molt before migration, or do some migrate to the wintering grounds and molt there?
Many of these questions could be answered by careful observations by backyard birders. This is yet another reminder that new discoveries are still waiting to be made, even among the most common backyard birds of eastern North America. A well-executed study like the one by Dittmann and Cardiff can lead to new discoveries anywhere, for any species. All it takes is curiosity and observation.
References
Dittmann, D. L. and S. W. Cardiff. 2009. The Alternate Plumage of the Ruby-throated Hummingbird. Birding 41: 32–35.  http://www.aba.org/birding/v41n5p32.pdf continued here: aba.org/birding/v41n5p35w1.pdf
Howell, S. N. G. 2010. Molt in North American Birds. 267 pp. Houghton Mifflin Harcourt.
Pyle, P. 1997. Identification Guide to North American Birds: Part I. Slate Creek Press. 731 pp.
Notes
Thanks to Masaharu Ishii for allowing use of his photo. Thanks to Peter Pyle and Donna Dittman for comments and discussion, and to Jeremiah Trimble and Harvard's MCZ for access to specimens.