Thanks to Sheri Williamson (author of the Peterson Field Guide to Hummingbirds) and her recent post titled Orange-throated hummingbirds – not so mysterious after all, we have a solid contribution towards understanding the orange throats of some Ruby-throated Hummingbirds, although I contend that mysteries still remain.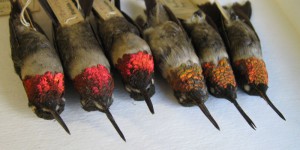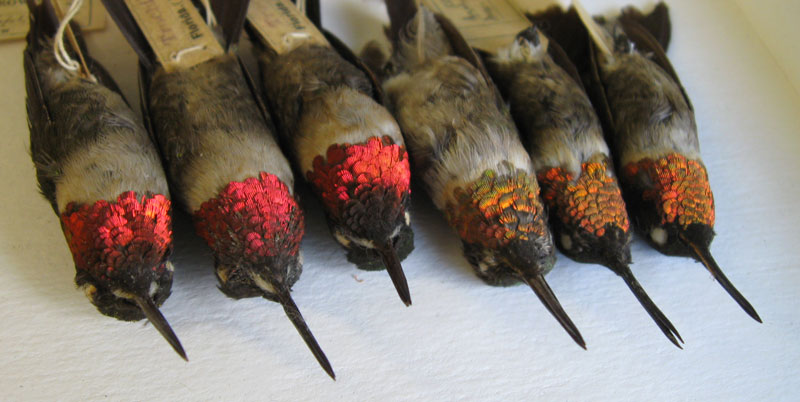 She explains the details of iridescent color on hummingbirds, and a plausible mechanism for color shifts with wear. She also includes two photos that seem to show pretty conclusively a color shift on worn feathers. Given this I stand corrected and I retract the suggestion in my previous post that color shifts with wear are unlikely. Apparently they do occur, and I am glad that Sheri has taken the time to explain it.
That still doesn't solve all of the mysteries, although it does point to some interesting possibilities for answers.
Since wear is part of the equation, it's likely that all Ruby-throated Hummingbirds become slightly more orange-throated over the course of the summer (and there must be some individual variation in the amount of orange shift). And since throat color is mainly being judged subjectively by birders and banders comparing one bird to any adjacent birds, a slight orange shift in all birds would not be noticed, and the throat would have to get really orange before it stands out from its peers.
Wear alone could explain the very drab orange throat color shown by all of the winter specimens at MCZ (see my first post on this subject), but only if there is no late summer molt. In other words, if throat feathers were molted only once in late winter they would be fresh in spring, becoming slightly more orange by late summer and very orange by midwinter. But the late summer molt is well-documented by Dittmann and Cardiff and is confirmed by hummingbird banders.
Donna Dittmann, Cathie Hutcheson, and Scott Weidensaul have all told me that they see no difference in throat color in late summer between the old feathers being dropped and the new feathers coming in. Although Sheri Williamson has posted a photo showing a Ruby-throated Hummingbird acquiring new feathers that are more red than the old ones. I wonder which is the norm? Do the incoming feathers usually look a little more red than the old ones, or do they look the same color?
If new feathers look the same color that would imply that the new feathers being acquired in the late summer are not as red as the feathers that were acquired in late winter. In that case the continued effects of wear during winter could lead to even drabber orange feathers by mid-winter. If the feathers acquired in late summer were also somehow weaker and more susceptible to wear that would lead to even more wear and even drabber feathers.
Interestingly, this hypothesis actually comes back around to my original idea, that the orange-throated specimens at MCZ are in a drab, "nonbreeding" plumage, one that becomes drabber and more obvious as the winter progresses. Contrary to my original post (and as corrected in my second post) the orange-throated males seen in late summer are not the same as the orange-throated winter specimens. Birds in worn summer plumage sometimes become obviously orange, and based on the MCZ specimens birds in worn winter plumage are always orange.