Patterns of translucence in wing feathers provide useful identification clues for many species of birds – terns, gulls, hawks, and others. Generally the translucent parts of the wing are those where there are fewer layers of feathers to block the light, and less pigment in the feathers. I've written about this before in my book Birding Basics and elsewhere, but I have just noticed another source of variation that I had not considered before.
I was enjoying a bright sunny morning a few days ago, watching two juvenile Red-tailed Hawks playing with each other in the air above me, and as they turned in flight it became apparent that their wings were strongly translucent at certain times and nearly opaque at others. A little careful observation revealed that the brightest translucence showed when the plane of the bird's back was nearly perpendicular to the sunlight, and least when the plane of the bird's back was closer to parallel with the sun's rays.
It makes sense, but I had never thought of it before. As a soaring hawk turns in circles it will alternate between having the sunlight striking its back more or less perpendicularly, and then at the other side of its circle having the sun striking its wings more "end-on" at only a low glancing angle off the upper surface of the wings. It is in this latter position that little or no light comes through the wings.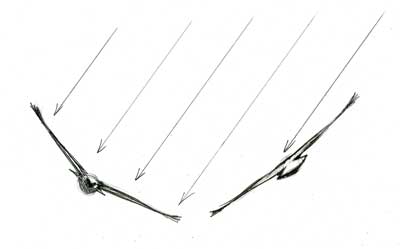 It's a small point, but something to keep in mind when watching a flying bird or comparing one bird to another.