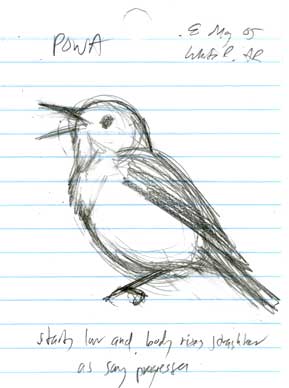 In the recording from the previous page – Blue-winged Warbler and Black-capped Chickadee – we learned that chickadee song is whistled while the warbler song has a buzzy quality, but that this is mainly a difference in tempo. The description "buzzy" tells us about the tempo of the sound.
Many of the words that we use to describe the quality of a bird song also carry information about pitch and tempo. For example, only sounds in a certain pitch range can be described as whistled, and we tend to call lower-pitched whistles "rich" or "full", and higher-pitched whistles "thin" or "squeaky". Similarly, certain descriptive words tell us about the tempo of the song. Words like relaxed and lethargic describe a slow tempo, and a buzz is just like a trill, only faster.
It turns out that the way we talk about quality in bird sounds is equivalent to how we talk about the gestalt or jizz of a bird's appearance. We say that White-throated Sparrow's song is "relaxed" and Canada Warbler's is "hurried" (examples on this page), in the same way we say that Red-tailed Hawk is "stocky" and Swainson's Hawk is "lanky". The shorthand description "relaxed" is a helpful summary, but we should also try to tease apart the measurements that create that impression: long steady whistles delivered in a slow and regular tempo, without any abrupt changes.
To understand how our impressions of quality – and the labels we use – are affected by tempo and by details of note structure, let's listen to three similar songs, all comprised of a rapid series of nearly identical phrases on a steady pitch.
Chipping Sparrow

The song of Chipping Sparrow is fast enough that we call it a trill, even bordering on a buzz. Sharp upslurs and downslurs, delivered too fast for us to hear individually, make it sound mechanical or rattling.

Swamp Sparrow

The song of Swamp Sparrow is slower than Chipping Sparrow. We can hear individual upslurs and downslurs so it sounds more musical than the Chipping Sparrow, but the tempo is fast enough, and pauses between phrases short enough, that we still describe it as a "slow trill".

Prothonotary Warbler

The song of Prothonotary Warbler is about the same tempo as Swamp Sparrow, but it has simpler sharp upslurred notes with relatively long pauses between the phrases. Because of that we hear it as a series of individual phrases and not as a trill.
To summarize, what we refer to as "quality" is the overall impression of the sound, most of which it can also be described by analyzing details of pitch and tempo. Labels such as trilled, rich, mechanical, relaxed, etc. are very useful and convey a lot of information once we develop an understanding of their definitions.