The new second editions of the Eastern and Western Field Guides use the revised art, text, and maps from the Second Edition of the Sibley Guide to Birds (see this page for info about what was changed in that book).

The new editions are the same size as the 2003 versions, but the layout is changed to match the format of the larger Sibley Guide to Birds, with each species in a vertical column – name at the top, map at the bottom, etc. – making comparisons much easier.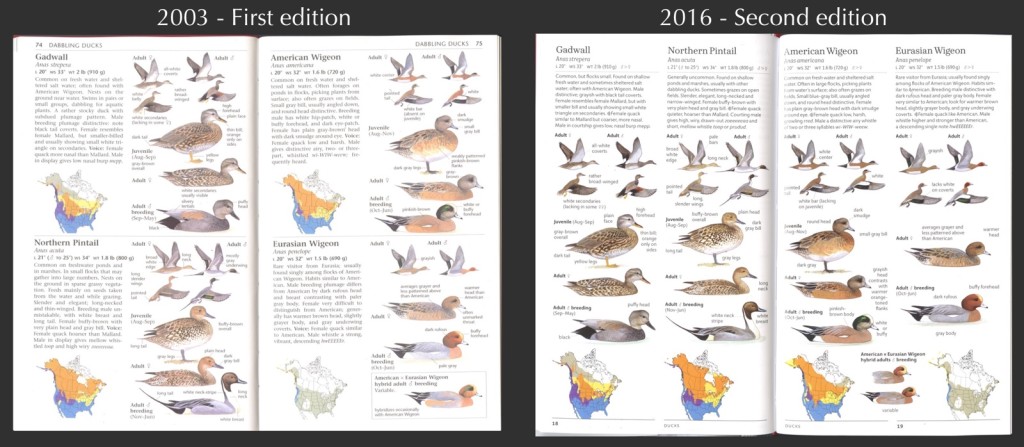 And these books even have some revisions beyond what was included in the second edition of the Sibley Guide to Birds (2014). The text of many species is updated to reflect specific details for eastern or western observers. Taxonomic changes since 2014 are included, such as the split of Ridgway's Rail. Several introduced species are added. Pin-tailed Whydah is added to both books based on breeding records in California and Florida, and Japanese White-eye, Cinnamon-rumped Seedeater, Bronze Mannikin, and Orange-cheeked Waxbill are added to the Western Guide based on records in California.
New and improved features include:
Updated habitat, description, behavior, and conservation text for each species account and all family pages.
New and revised illustrations of species and regional forms.
New design featuring species accounts in columns, allowing for better comparison and more illustrations and text.
Current taxonomic order and up-to-date common names.
All maps revised to reflect the most current range information.
More species and rarities included