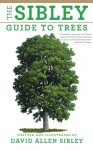 Here are page-by-page corrections and changes for The Sibley Guide to Trees. This listing will be updated periodically as issues come to my attention. Please feel free to leave comments or send me an email if you notice anything that is not listed here.
inside front cover – The two-letter abbreviation for Nunavut should be NU (not NV). The USDA hardiness zones map could be replaced with an updated map by National Arbor Day Foundation to better reflect current climate. You can also see a map that includes hardiness zones for Canada as well as the US, although it is based on 1990 zones.
p vi – Myrtle Family should be listed as page 109
p 3 – California Torreya, the common and scientific names should be justified left
p 28 – Red Pine needs a new name to distinguish it from Japanese Red Pine. I propose American Red Pine.
p 41 – Hemlock intro – twig with pollen cones and seed cone caption should not refer to female flowers, instead should say "female seed cones tiny, green or purplish at twig tip"
p 43 – Scientific name of Mountain Hemlock should be Tsuga mertensiana
p 49 – Both Serbian Spruce and Oriental Spruce have maximum height lower than "typical" height. This is because the maximum heights listed in the guide are for trees growing in North America, while "typical" heights in this case come from information about the trees in their native range. The "typical" height should also refer only to North American trees, and therefore should be lower. Presumably Serbian Spruce is usually less than 40′ tall in North America, and Oriental Spruce usually less than 60′ tall.
p. 49 – Serbian Spruce, "straddlng" should be "straddling."
p 83 – scientific name of California Fan Palm should be Washingtonia filifera
p 102 – Scientific name of London Planetree more commonly used is Platanus x hispanica
p 105 – Parrotia has only one t
p 143-149 – Hickories, terminology for describing nuts as "ribbed" or "angled" needs to be clarified and corrected (a detailed post about this is here).
p 146 – Black Hickory caption should say "husk very similar to Pignut…"; Sand Hickory, captions should read "fruit similar to Pignut…" and "twigs similar to Pignut…"
p 179 – Tanoak – caption at bottom right should specify "pale underleaf conspicuous among dense, dark foliage"
p 189 – Southern Red Oak leafy twig, the caption saying "acorn identical to Southern Red Oak" should instead say "acorn identical to Cherrybark Oak"
p 227 – Tung-Oil Tree – leaves should be larger
p 232 – Eastern Cottonwood – range map updated to add Florida and northeastern locations (new map here)
p 250 – Hollyleaf Buckthorn is often split into several species, and in that treatment the only tree-like species is known as Red-berry Buckthorn (or Island Redberry) Rhamnus pirifolia, found on the Channel Islands. See the Jepson manual for details.
p 252 – Glossy False-buckthorn includes the three leaves at the top of the column and the map at the bottom. The yellow box of text and the three leaves immediately below that are Ceanothus. The map should be moved up above the box text to make clear that it represents the range of Glossy False-buckthorn.
p255 – Rose Family Intro, near bottom of column 1 should say "Plums and Cherries (Prunus) page 256" [not page 254]
p 295 – USDA Plants database says Photinia serratifiolia is Taiwanese Photinia, while Chinese is P. davidiana
p 302 – Slippery Elm, in the third sentence "fragrant" is misspelled.
p 324 – last paragraph column 1: "One other species of Soapberry is found in North America" should read "One other species of soapberry found in North America is often tree-like"
page 332 – Intro to maples, the third paragraph begins "All maples have palmately compound leaves…" This should instead say "Nearly all maples have palmately lobed leaves…" And could go on to elaborate that a few species have the leaves so deeply lobed that they are compound, and Boxelder is unique among the maples in having pinnately compound leaves.
p 334 – Red Maple, map should include the southeastern corner of Newfoundland.
p 336 – Silver Maple, map is incorrect. The range should not extend as far north in Canada, etc. Ron Pittaway (pers. comm.) reports that Silver Maple is largely restricted to river floodplains in southern Ontario, and hybridizes commonly with Red Maple at the northern edges of its range. A map showing the approximate native range is in the Silvics Manual (note that cultivation has extended the range beyond this map in many areas).
p 338 – Sugar Maple, range should extend farther north and northeast to approximately match Red Maple (fide Ron Pittaway)
p 344 – Striped Maple, in the yellow box the word "between" is misspelled
p 345 – Mountain Maple underleaf should be rotated with stem down, (same for Vine Maple)
p 346 – Boxelder, range should extend to include all of southern Ontario north to Ottawa (fide Ron Pittaway). Note that the map of native range in the Silvics Manual shows none growing north of New York state, so the Ontario trees must be a recent range expansion, presumably escaped from cultivation.
p 392 – First line of text – capitalize Paulownia family
p 393 – Aralia Family, add a sentence saying "Castor-Aralia (p 322) is also a member of this family and should be placed here." [and in a future edition it will be]
Index:
Entries for Chilopsis, Chionanthus, Chinese-Fir, and Chinkapin, at the bottom of column 1 page 418, are out of order and should all be moved up a few entries to fit in proper alphabetical order.
Missing entry for Maple, Silver – pg. 336
Myrtle family should be pg. 109
Pignut should say pg. 145
Rose Family should say pg. 254
And it is suggested (see comments below) that species like Northern White-Cedar and Western Redcedar should have an entry in the index under "cedar". [and presumably there are other examples like this]
Thanks to Rex Rowan, Ron Pittaway, Larry Sansone, and others for pointing out errors.