Thanks to an email from Ray Telfair I've taken a closer look at the illustrations and descriptions of hickory nuts on pages 143 to 149 in the Guide to Trees.  I used the terms "angled" and "ribbed" interchangeably, and illustrations such as Pignut Hickory p 145 appear "angled", which is confusing and incorrect, so I'll try to clarify and correct here.
In general, as shown in the image below, the three species in the Shagbark group (Shagbark, Shellbark, and Mockernut hickories) have the nuts 4-angled. This could also be called 4-sided and can be felt as you roll the nuts with your hand. The four species in the Pignut group (Pignut, Scrub, Black, and Sand hickories) generally have the nuts more smoothly curved, not clearly 4-angled. All of these species, in both groups, can and do have the nuts "ribbed", but only the Shagbark group has "angled" sides. Trees in the Pecan group tend to have the nuts smooth and rounded (except rough and flattened in Water Hickory).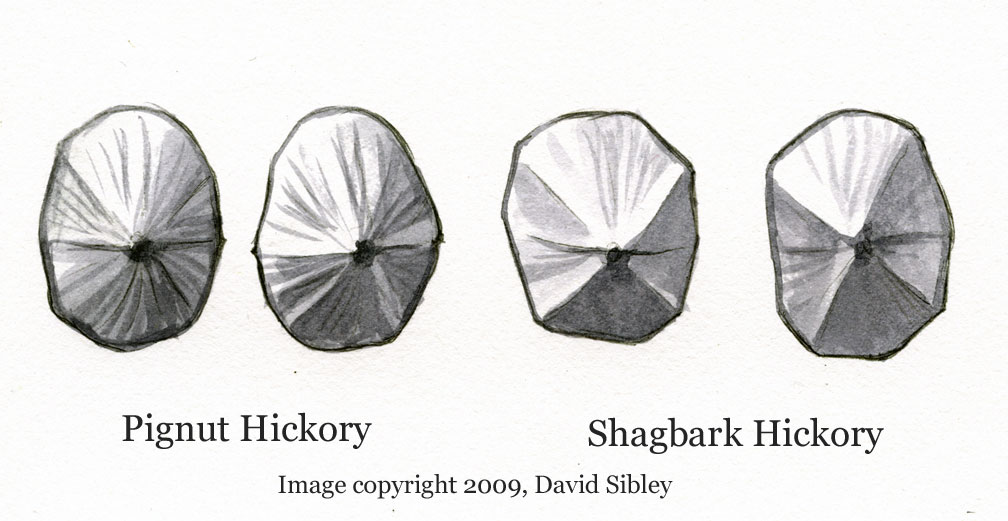 The difference in shape is variable and can be difficult to determine on some trees, and there are probably trees with the "wrong" shape, so don't rely solely on this feature for identification. More study will help to understand the variation.