Watching the changing colors of fall leaves is always interesting, and even more so when you recognize the species of trees and begin to understand some of the finer points of variation in color. In these four photographs of Red Maple, all taken within a few days in Massachusetts and New Hampshire, I'll describe a little of that variation.
Red Maple is one of the most common trees in northeastern North America, and one of the most colorful in autumn. They can be bright pale yellow, or orange, or brilliant scarlet, or maroon. Single individual trees generally have all of their leaves a similar color, but different trees can be strikingly different. Often the extremes of variation can be seen on adjacent trees, and a single pure stand of Red Maples presents a diverse palette of color.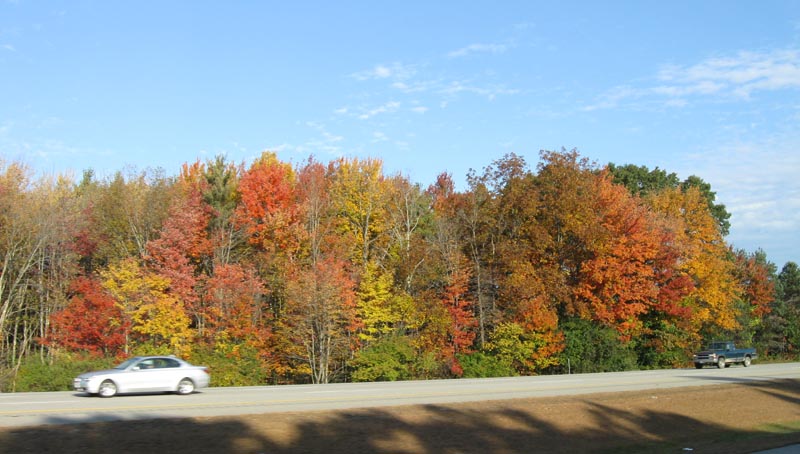 The timing of leaf fall also varies in Red Maple, with some trees losing leaves in September, while other nearby trees retain leaves to late October, a span of at least four weeks. At least some of this variation seems to be tied to growing conditions, with trees growing in wetter areas losing their leaves earlier than those in uplands. Compare the photo below – of Red Maples growing in low-lying swampy soil around a pond – with the photo above taken just two days apart. In mid-October in Massachusetts it's common to see a swamp filled with leafless Red Maples, while trees around the margins still have brilliant fall colors.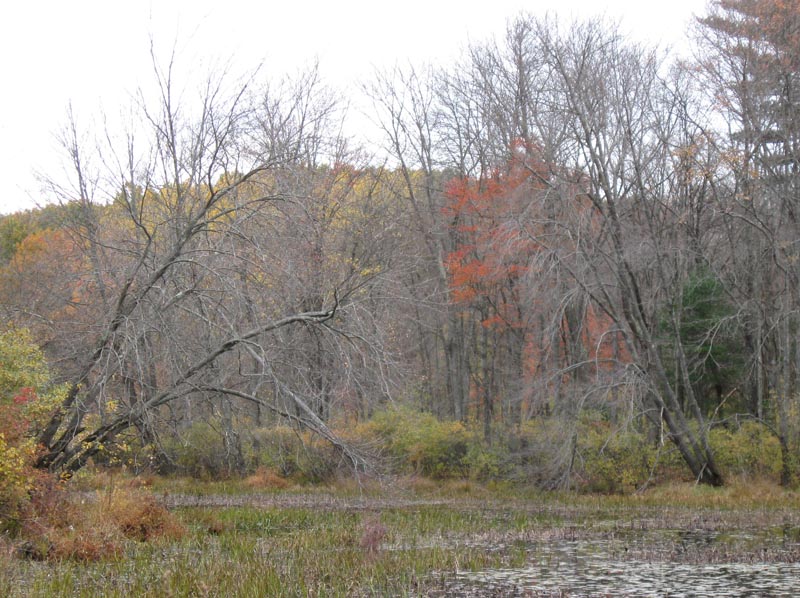 Another major source of variation in fall color in Red Maple is the prevalence of cultivated varieties. Virtually all Red Maples planted in suburbia are commercially available cultivars, often selected for their bright and/or persistent fall color. Whole streets or parking lots may be lined with genetically identical trees. In contrast to wild trees, these clones show almost no variation in color of autumn leaves.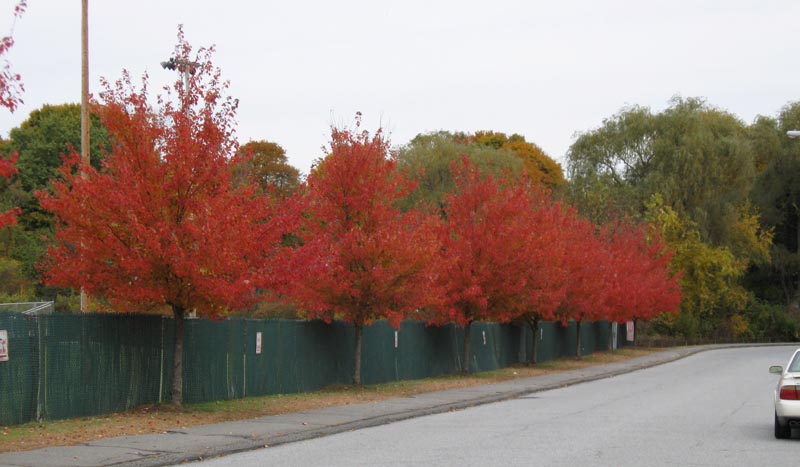 There are plenty of different cultivars available, though, so you will still see lots of variation in the leaves of cultivated Red Maples as you travel along different streets. Below is a photo showing two different Red Maples. The tree in the foreground still has a lot of green in its leaves, weeks later than any of the wild local trees, while the tree in the background has exceptionally bright leaves, brighter than most wild trees.