On October 9th, 2005 I was enjoying the view at First Encounter Beach in Eastham, Massachusetts and watching a small flight of seabirds. A flock of gulls began to gather on the beach close to my car and I found myself more and more engrossed in the plumage variation of Ring-billed Gulls. This first photo shows two first-fall Ring-billed Gulls sleeping, with very different plumage – the one on the left still in full juvenal plumage, while the one on the right has replaced most of the body feathers with first-winter plumage.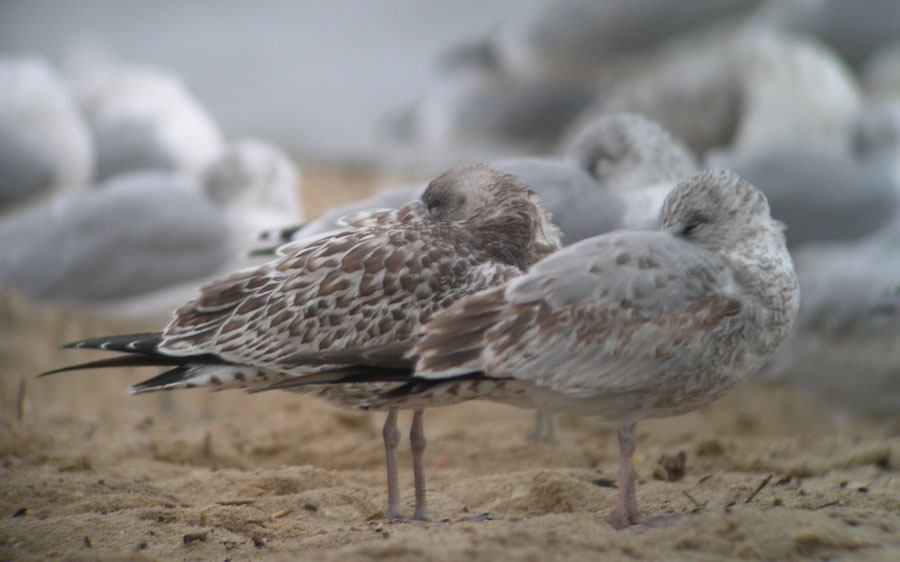 This much is familiar to many experienced birders, but on this date I was struck by the fact that these two birds, in two different plumages, are more or less the same age. That is, they were both born in the summer of 2005, but by early October one has advanced into the next generation of feathers, while the other retains all of its juvenile feathers. The difference in appearance is striking, with variation in molt timing combined with variation in juvenal and first-winter plumage colors. Note also the difference in leg color, which seems to parallel variation in bill color.
I photographed about 15 immature Ring-billed Gulls that afternoon, and I have arranged the photos here according to plumage: from full juvenal plumage to the most advanced first-winter plumage. The bird on the left appears below in photo number 1, the bird on the right in number 10.
These were digiscoped with a Nikon Coolpix 4300 hand-held to the 30X eyepiece of a Swarovski AT80 HD telescope. The sky was overcast with some light rain, requiring long exposures and accounting for the blurring in some photos.