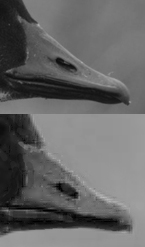 I recently checked the bill length to bill depth ratios of Cackling and Canada Geese, expecting to find a consistent and useful difference. The bills of Cackling Geese are often described as "stubby" and I was always under the impression that they were short and relatively deep. Working with the measurements in Pyle (2008, Identification Guide to North American Birds: Part II) showed that there was virtually no difference in the ratio of length to depth.
For example, length to depth is 1.9 to 1 in Richardson's Cackling Goose (B. h. hutchinsii), and 2 to 1 in the longest-billed subspecies of Canada Goose (B. c. canadensis). To make matters worse, the measurements given for Lesser Canada Goose show a slightly stubbier bill (1.8 to 1) than Richardson's Cackling Goose! (On the other hand, the west coast subspecies of Cackling Goose B. h. minima does have a stouter bill than Canada, with length to depth ratio about 1.6 to 1.
I put together the comparison of two birds at right to demonstrate the challenge. It's possible to detect a slight difference in proportions, but only barely, and I am certain that using a larger sample of photos would show overlap in bill shape.
Below are the same two photos, now showing the entire head. With the head for context, it's clear which is the Cackling Goose and which is Canada.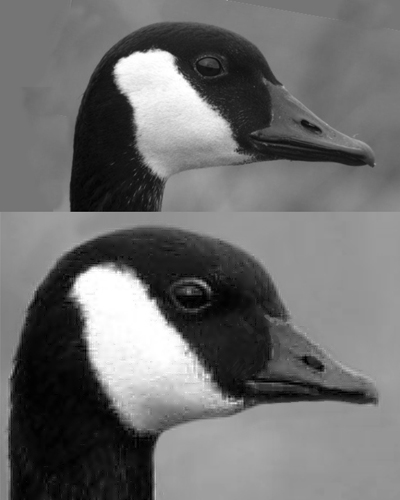 There seem to be optical illusions at work that make the bill look stubbier when the whole head of the Cackling Goose is visible, but this exercise shows that bill shape is not a helpful feature when trying to distinguish these species. It would be better to compare bill length to head length (as we do with Greater and Lesser yellowlegs) and perhaps also to compare bill length to neck thickness. Of course, this doesn't do anything to address the ongoing issue of distinguishing Lesser Canada Goose from Cackling Goose, but at least we know that bill shape is not going to help.