In discussing the identification of the woodpecker in the Luneau video, my colleagues and I suggested that the extensive white visible in the wings could be accounted for, in part, by the natural twisting of the wings during flight. A bird flying away would show the underside of the wings during the entire downstroke. In the formal response and continuing in the recent Recovery Plan for the Ivory-billed Woodpecker (p. 44), those who believe that the video shows an Ivory-billed Woodpecker insist that these are "…novel interpretations of typical bird flight."
I hesitate to post this, because I really don't want to reopen the whole debate over the video, but this is not a novel interpretation of bird flight, and it has applications far beyond the debate over one blurry video. I think it is important enough, and basic enough, to deserve more discussion. Any artist trying to render a flying bird of any species has to understand the flexing of the wings in order to produce a believable image. Similarly, any birder trying to interpret the appearance of any bird they see in the field will benefit from understanding the natural curvatures of birds' wings.
There are really two points to consider. The first is that, when a bird is flapping, the leading edge of the wing "leads" on the downstroke, so that the entire wing tilts forward. The two photographs below demonstrate this clearly.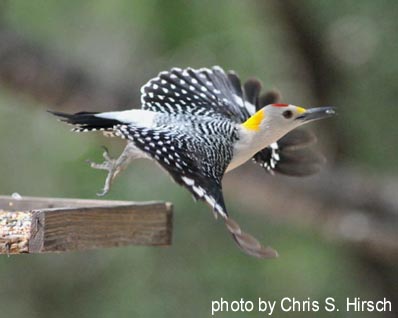 The second point is that birds' wings are not flat, but curved to form an airfoil shape. Fitzpatrick et al. (2006) state simply that "Pileated wings have more black than white on the ventral surface" which is true in a strict two-dimensional sense. But in the real world, when viewed from behind, the natural curvature of any bird's wing foreshortens the secondaries and emphasizes the leading edge of the wing, as seen in the photo below.
Understanding these fundamental aspects of wing mechanics is key to understanding the identification of the bird in the Luneau video, as well as interpreting the varying appearance of any bird in flight.
Links to the Luneau video and the debate over its identification can be found here.
The photographs of Pileated Woodpeckers above are from a fantastic series by Lillian Stokes. You can see the whole set and read the story behind them at her blog.