Last month (late Aug 2010) I had the pleasure of spending some time at the Nature Conservancy's Pine Butte Guest Ranch in Montana, where an irruption of Red Crossbills was in full swing. Each day around the ranch I saw and heard hundreds of crossbills, of two main call types, and these offered a great opportunity for study.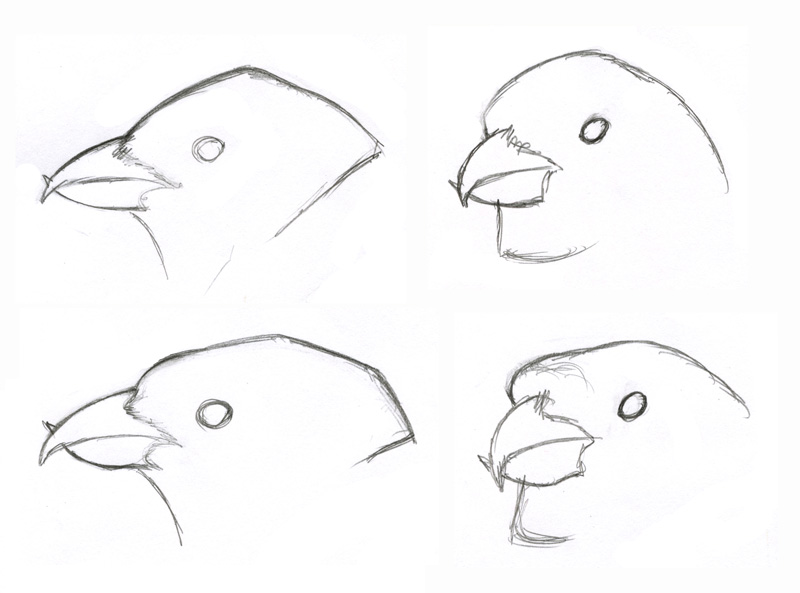 Beginning in 1988 with Jeff Groth's paper documenting two distinct populations of Red Crossbills in the Appalachians, interest in these birds has steadily increased. Researchers (primarily Groth and Craig Benkman) have now identified ten different call types in North America, and there has been serious discussion of calling them all species.
For birders, these ten types are nearly indistinguishable in the field. The surest way to identify them is to make recordings of flight calls and then create spectrographs to study the details of those calls. Even if you manage to get a good enough recording to make a clear spectrograph, some calls are so similar, and variable, that it takes a practiced eye to distinguish them.
Furthermore, the calls are learned, and there are a few documented cases of birds giving more than one call type, and others that switched call types as adults to match their mate.
I've always been just a bit skeptical of the proposal to treat each call type as a species, but spending more than a week living with two types of crossbills in Montana has turned my opinion in the other direction.
First of all, the two types present there were easily distinguishable by ear. Each day I saw hundreds of Type 4 crossbills, with a sharp rising "chwit" call, and tens of Type 2 crossbills, with a lower, descending "kewp" call. Often I would hear other sounds that I attributed to the "toop" calls (mild excitement) of these types, or to bits of song. I only heard a few true flight calls that were not easily placed in either of these two types. Some of these were probably Type 3 crossbills with a higher "klink" call, but I felt confident about identifying nearly all of the flight calls I heard.
Granted, I assumed I was only dealing with two types, and I may have been missing other types and just lumping them into the two categories I created. It can be much more complicated when dealing with three or more types, but with just two it was relatively easy. Based on the information I had available there I was certain that Type 4 was the more numerous type, but whether the others were Type 2 or 5 was a matter of internal debate until I got home, made spectrographs of my recordings, and asked Nathan Pieplow for help.
There were several things that made me think I was looking at two discrete populations that were acting like species. For the most part, I was able to distinguish the two types visually. The Type 4s were slightly smaller and more "delicate" overall, especially in the head and neck, and had a slightly smaller bill. The Type 2s were slightly larger and "more burly" with a thick neck and blocky head, and with a deeper and heavier bill. I thought I could see these differences whenever I watched a calling bird of known type, but the real test came on the several times I picked out a Type-2-like bird and then heard it call.
Nearly all of the confirmed Type 2 birds were in full juvenal plumage, unlike the Type 4s (which were adults and many worn and molting juveniles); and the Type 2s were consistently more heavily streaked and more contrasty on average than the juvenal plumage of the Type 4s.
The overall tone and quality of the song seemed to differ even more than the flight calls. I am less confident of this because song is extremely varied and I didn't hear enough to really sort out all the variation, but whenever I noticed a singing Type 2 it immediately stood out from the more numerous Type 4s in pattern and pitch.
Finally, although the birds were all feeding on Douglas-Fir cones and eating salty grit on the ground, often in mixed company, in the air they kept to their own kind almost completely. Pure flocks of Type 4 crossbills would fly over, and whenever I heard Type 2s I would find them in their own small flock or as single birds. In other words, they mixed about as much as Red-winged Blackbirds and Brown-headed Cowbirds mix. (In contrast, Common and Hoary Redpolls seem to mix indiscriminately in flocks).
It seems that people who have spent a lot of time looking and listening carefully to Red Crossbills are persuaded that these call types are really significant. This was my first opportunity in the last 15 years to immerse myself in crossbills, and I came away really excited about the differences. They may be species or subspecies or they may not quite fit any of our existing categories, but these call types are definitely distinct populations and deserve all the attention they get.
Further reading:
As a starting point for birders Craig Benkman's summary of Red Crossbills in Colorado has lots of good background info that applies everywhere.
Jeff Groth's original website is still an excellent summary of the call types, with recordings and measurements
Nathan Pieplow at Earbirding.com has several blog posts about these topics:
Matt Young's Introduction to Differences in Crossbill Vocalizations offers the basics – http://ebird.org/plone/ebird/news/introduction-to%20crossbill-vocalizations
Ken Irwin recently described Type 10, and he has an extensive and very detailed website with lots of recordings. http://madriverbio.com/wildlife/redcrossbill/
Craig Benkman discovered Type 9, and has published extensively for two decades on the evolution and ecology of crossbills, pines, and squirrels. Many of these papers are available at his website (go to publications) http://www.uwyo.edu/benkman/