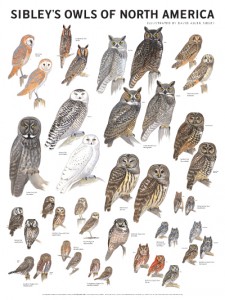 Posters
Several new posters have been released by Scott & Nix, including Backyard Birds of the West, Waterfowl, Hummingbirds, Owls, and Raptors of North America.
Notecards
Notecards will be available soon from Scott & Nix.
T-shirts
Liberty Graphics has produced three new t-shirt designs featuring art from the Sibley Guides, and more are on the way.
Android
The Android eGuide has been updated with a variety of minor fixes.