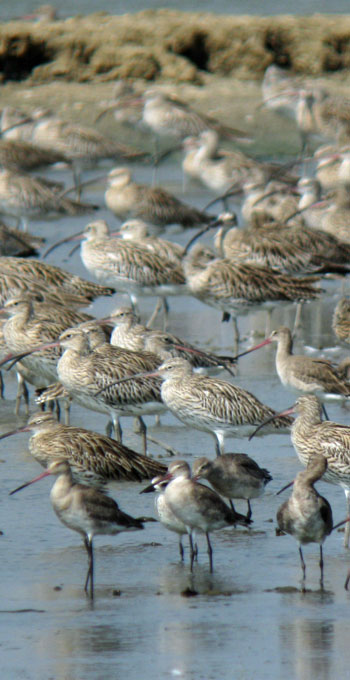 The benefit auction concluded in Feb 2011 (more information in a post here) is all about protecting salt pans in Thailand that are critical wintering habitat for many species of shorebirds including Spoon-billed Sandpiper. Protecting wintering habitat is particularly important for shorebirds, because many of them spend eight or nine months of each year there. 
Species that feed on tidal flats also require a secure high-tide roost nearby, on sandbars or other high ground, and such sites are often more threatened by human activity than the birds' foraging habitat. 
Not all human activity is bad. For example, traditional salt farms in Thailand provide the birds with both a secure high-tide roost and an opportunity for some supplemental feeding while the nearby tidal flats are submerged. But many salt pans are being developed or converted to other uses. The information booth proposed by the Bird Conservation Society of Thailand would begin to educate local residents and officials about the global importance of this habitat, with the goal of preserving the habitat by maintaining current land use.
Traditional salt farming (photos below) begins with a very carefully leveled shallow pond. Once the ground is prepared the ponds are flooded with a few inches of sea water through an intricate series of channels and gates. As the water evaporates the salt is concentrated, and each pond is refilled and evaporated several times, becoming more and more saline. 

This process takes about a month (more if it rains) and as the pond is allowed to dry for the last time a thick layer of salt crystals forms on the bottom. This salt is raked by hand into rows and then into piles. After the final bit of water evaporates, the salt is carried to higher ground to be bagged and shipped, and the pond can be prepared for the next cycle.
Sandpipers seem to thrive in the constantly changing water levels in the complex of ponds, but for as long as Spoon-billed Sandpipers have been known at this site they have frequented a few ponds in particular. Preserving these salt pans is important as wintering habitat for Spoon-billed Sandpipers, and it's also an important step in raising awareness of coastal habitats in the region.
You can help by bidding in the auction, or by making a donation directly through Audubon California. Thanks to Audubon, US citizens can make tax-deductible contributions to a Spoon-billed Sandpiper Conservation Fund. To contribute to the Bird Center at Pak Thale, make a check out to "Audubon California", write "Bird Center at Pak Thale" in the memo line and mail it to:

Audubon California
c/o Graham Chisholm
4225 Hollis Street
Emeryville, CA 94608