In a previous post I wrote about differences in the black-and-white pattern on the neck of Downy and Hairy Woodpeckers, and in comments there Dan Lane reminded me of a difference in the pattern of red on the nape of males, that I've heard about over the years but never really investigated.
Male Downy Woodpecker has a solid red patch across the back of the head, while male Hairy has the red patch broken by a vertical black line connecting the crown and nape.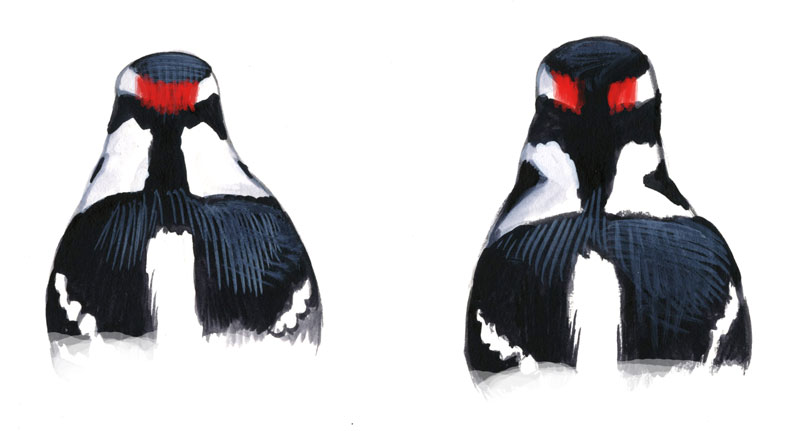 From Dan Lane:  "Throughout the East (from New England to the Gulf of Mexico), this pattern seems to hold consistently. Out West, my experience is much more limited (and is primarily in the northern Rockies there), but the times I've been able to check, it holds as well. I've noted that Hairies in the mountains of southern Mexico and Central America may not show the black divider, but my experience with these birds is very limited indeed."
I'll be watching for this more carefully, and would be very interested to hear from others and from other regions, either pro or con.
Update 14 Aug 2011:
Thanks to Michel Gosselin, who reports that among 200+ male Downy Woodpeckers (specimens at the Canadian Museum of Nature in Ottawa, presumably mostly from that region) two have the red nape patch broken by a black band. In other words about 1% of male Downy Woodpeckers have a black band and match Hairy Woodpecker. So this is not absolutely diagnostic. Along with the cautions expressed in the comments about Hairys looking all red when their feathers are fluffed, this should be kept in mind, but it sounds like the presence of black should be a pretty strong clue and easy for backyard birders to use.