Reader Richard Messer sent me the photos below, asking if I knew what the behavior was that displayed the white "rump spots" of the Carolina Wren. My answer is "no". I've noticed spots like this a few times in the field, but never had a chance to really wonder about them. The BNA account for Carolina Wren doesn't mention anything about this (and has very little on displays in general), and checking several other references, as well as looking for info on related species of wrens also came up empty.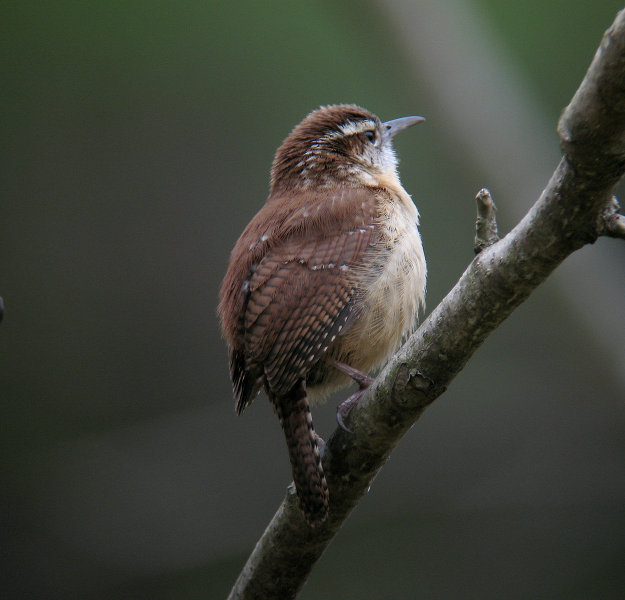 The feathers that are involved are the rump feathers, which usually lay flat against the body, under the wings, forming a smooth contour from back to tail. In this case the bird has fluffed them out to cover the wings, and in that way shows a bunch of white spots.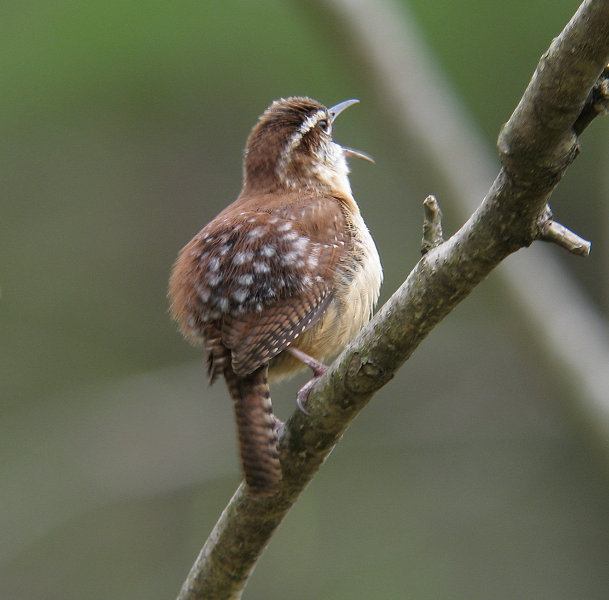 It seems clear that this is a display – the fact that the bird is singing, and that the odd feather arrangement reveals distinctive markings – all suggests that it means something important to other Carolina Wrens.
So much basic information about common birds like this is still unknown. The function of this display, how often it is used, under what circumstances, by one or both sexes, etc. are all open questions that could be answered by an alert backyard birder. If you already know the answers, or have some ideas, please leave a comment.
Update 4 Apr 2011 – new photo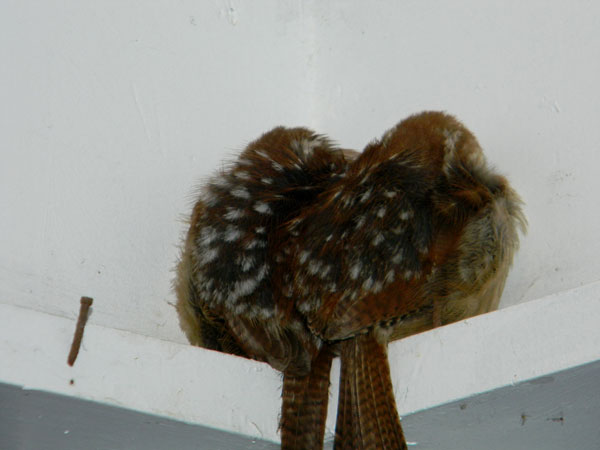 The photo above by Judy Mojarrad shows two Carolina Wrens sleeping under her roof. With heads turned around and bills tucked into their back feathers, and with the flank and rump feathers completely expanded, these birds look like balls of fluff. They're fluffed up to conserve heat, and all songbirds adopt a similar pose when they sleep.
In this pose the white spots on the rump feathers might provide some camouflage, but if that was the primary purpose of the spots I would expect a lot more songbirds to show similar markings. [repeating from my comment below:] Carolina Wrens are unusual for 1) fluffing those feathers while singing and 2) having contrasting white spots there. One of the keys to figuring out whether this means anything will be watching a lot of singing Carolina Wrens to see if they show the white spots in certain situations more than others. And I also wonder: Are there any other North American songbirds that show similar white spots? OR any that fluff their rump feathers to cover their wings while singing?
Notes
Thanks to Richard for sending this to me and for allowing use of his photos. You can see the original photos at his website here http://www.picturetrail.com/sfx/album/view/16217233
And thanks to Judy Mojarrad for sending her photo and allowing me to use it here.