Note: I'm preparing posts on the range and identification of Brant subspecies, which will help make the following more understandable to those who are not already well-versed in the intricacies of Brant.
Over the last fifteen or so years I have seen several odd "gray-bellied" Brant along the US Atlantic coast. This spring I finally made a small effort to study Brant identification, and even though I have only been able to examine a few hundred Brant closely, I've seen at least five birds (and photographed three) that stand out from the standard Pale-bellied Brant that are expected here.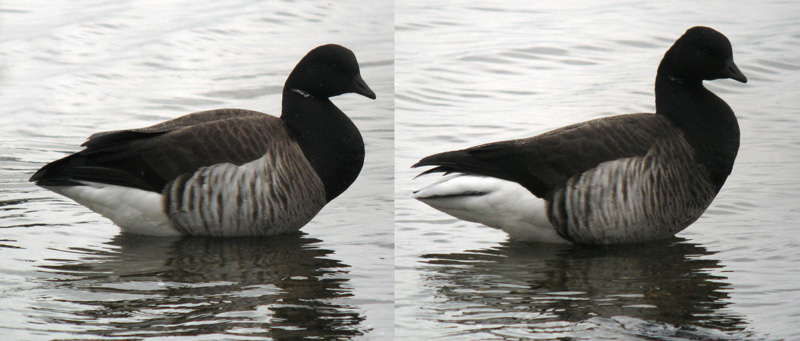 The first was a slightly darker bird (photo above) that I would not have noticed without being very attentive to subtle differences. It could be the dark extreme of "normal" variation in Pale-bellied Brant (B. b. hrota), but it stands apart from all of the several hundred Pale-bellied Brant I've studied this spring. If we assume it is dark-bellied because of mixed parentage, then it could be an intergrade with either Black Brant (B. b. nigricans from western Canada) or Dark-bellied Brant (B. b. bernicla from Siberia). In favor of Black Brant is the slightly darker back and fairly clean white flanks. In favor of Dark-bellied is the fact that pure Black Brant has a much more prominent necklace, and one could argue that the white flanks are invaded by more gray than is typical on Pale-bellied, suggesting Dark-bellied parentage. Either way, it's probably a backcross with Pale-bellied, since the intermediate features are so weak, and it's probably unidentifiable, but I'll speculate that it's something like a Black x Pale-bellied intergrade back-crossed with Pale-bellied.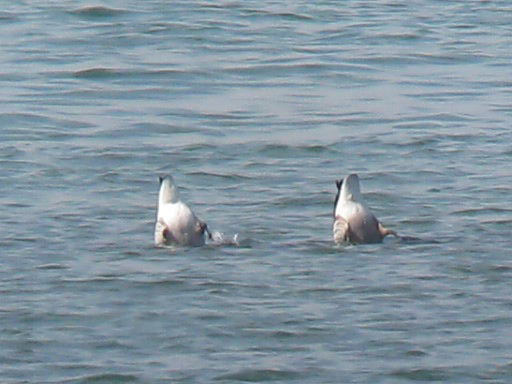 The next bird was another gray-bellied adult swimming with Pale-bellied Brant (above). I noticed it when the birds tipped up to feed, and it was distinctly darker gray on the belly than any of the Pale-bellied Brant present, which were all very pale gray (nearly white) on the belly.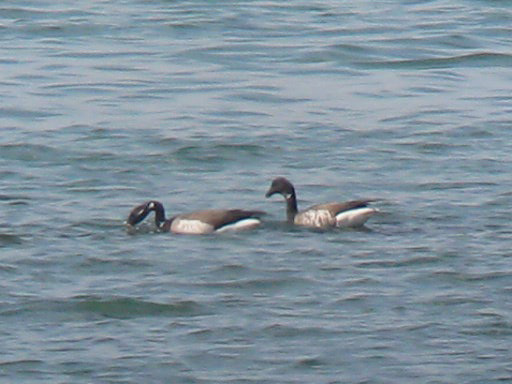 Overall this second mystery Brant is very similar to Pale-bellied, but two things stand out besides the gray belly. The back is about the same color as the Pale-bellied Brant nearby, if anything slightly paler, and definitely not darker. The flanks are extensively mottled with gray, not as white or as sparsely-marked as the Pale-bellied Brant. Both of these features (and the unremarkable white necklace) suggest that this bird is part Dark-bellied Brant (B. b. bernicla) rather than part Black Brant. I don't think the belly is dark enough, or the flanks gray enough, for this to be a pure Dark-bellied, but I propose that this is a Pale-bellied x Dark-bellied intergrade.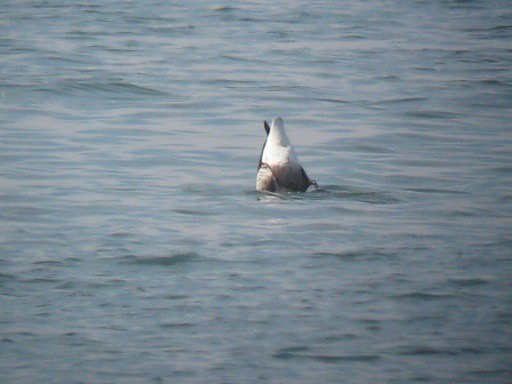 The third mystery Brant (above) was also detected as it tipped up to feed, revealing a dark gray belly even darker than on Mystery Brant 2, as well as a contrasting dark band bordering the rear edge of the flanks.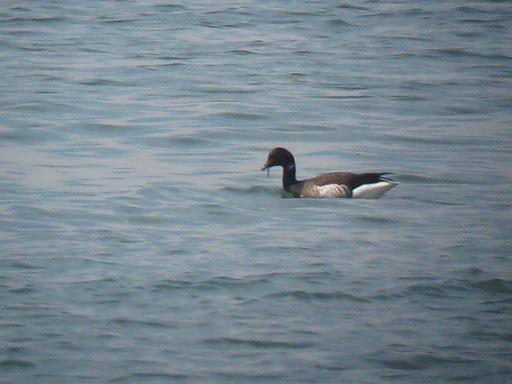 This bird was more obvious than Mystery Brant 2 when swimming. It shows a very dark and very brownish back. At many angles there is no visible contrast between the black neck and dark back. The dark gray-brown sides show relatively little contrast with the black breast, but the flanks are as white as any Pale-bellied. This all looks good for a pure Black Brant (B. b. nigricans) but the white necklace is broken on the front of the neck, and the belly color may be a bit on the pale side. I propose that this bird is a Black x Pale-bellied intergrade.
Any of these three could be the enigmatic Western High Arctic Gray-bellied Brant (subspecies unassigned), which nests on Melville Island in far northwest Canada and winters mainly in Puget Sound. I have no personal experience with Gray-bellied Brant, but based on what I've read I think Mystery Brant 1 is the best prospect for Gray-bellied. Unfortunately the Gray-bellied Brant is very similar to Pale-bellied, and some paler individuals may be indistinguishable from Pale-bellied. It seems likely, then, that most Gray-bellied Brant would look essentially identical to some Pale-bellied x Black Brant intergrades. In addition, since Gray-bellied itself probably interbreeds with both Pale-bellied and Black, there must be a "stew" of confusing and unidentifiable intermediate Brant coming from northwestern Canada.
Clearly there is a lot to learn about Brant in the US. The common wintering Pale-bellied birds in the east are very consistent in belly color, and any individual showing a distinctly darker gray belly (even if only slightly) can be assumed to have some mixed parentage. These gray-bellied Brant are a fascinating puzzle, and any careful observer can add to our understanding and help move closer to solving the puzzle.